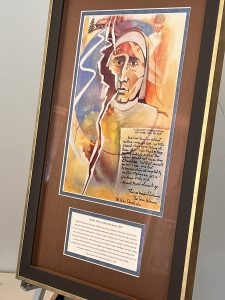 SCRANTON – Even though she has been deceased for more than 125 years, the life and memory of Mother Theresa Maxis lives on at Marywood University.
Dozens of people gathered April 5 for the official unveiling of Theresa Maxis, Torn Woman, a portrait created by Sister Helen David Brancato, IHM.
"We've known about this portrait for many, many years because we know the sister from the IHM Congregation in Philadelphia who actually did the portrait," Sister Mary Persico, IHM, President of Marywood University, said.
Born of unwed parents in 1810, Mother Theresa Maxis co-founded the Sisters, Servants of the Immaculate Heart of Mary (IHM), together with Father Louis Florent Gillet, a Redemptorist priest from Belgium, to educate girls of the Michigan frontier.
"She suffered from classism, she suffered from racism, she suffered from sexism," Sister Mary Persico added. "We can join her sufferings to the sufferings of people all over the world today."
In 1829, she became a founding member of the Oblate Sisters of Providence, the first congregation of African American women religious in the United States. Despite poverty, Mother Theresa Maxis and her IHM Sisters established schools and sheltered orphans. Under her leadership, the IHM order and its social services expanded from Michigan and Pennsylvania. She died in 1892.
"We have such an affinity here at Marywood for Theresa Maxis and all the good that she has done in the world," Persico added. "She really worked for the empowerment of women and Marywood was founded as a university for women. We thought this would be a really good place to have her portrait."
Mother Theresa Maxis' legacy lives on today in North America, South America and Mexico with close to 1,000 IHM Sisters and more than 240 associates who labor in her spirit, committed to the eradication of the oppression of women, the shaping of just social justice and the building of a culture of peace.
The portrait, which was unveiled at Marywood University, is on display to the public in the Archives Room, Second Floor of the Learning Commons, on the University's campus.