WILLIAMSPORT – Two parishes in Lycoming County are working to become more welcoming to the community – especially young mothers and their infants.
In late August, Saint Boniface Parish in Williamsport and Saint Lawrence Parish in South Williamsport signed on to the 'Breastfeeding Welcome Here Initiative.' The move comes after Williamsport was one of two cities in the commonwealth designated a 'Breastfeeding Family Friendly Community' by the Pennsylvania Department of Health.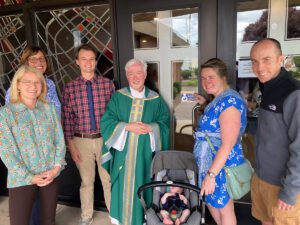 "We want to welcome young families. We want church to be a place where children are always part of the picture," Rev. Glenn McCreary, pastor, explained. "I've often said that I don't mind when a child is crying during Mass. We're Catholic, we're pro-life and crying children is what life sounds like. Now, we want to clearly extend that welcome to the breastfeeding individuals and families among us."
Lisa McCloskey, RN, BSN, IBCLC, Lycoming/Clinton Breastfeeding Coalition Chair, and a parishioner at Saint Boniface, helped both parishes with the process.
"We are creating a welcoming environment to remove barriers to make it easier for all families to choose and to continue human milk feeding and to change a culture to normalize breastfeeding," McCloskey said.
For the best health outcomes, the American Academy of Pediatrics recommends exclusive breastfeeding for approximately six months followed by continued breastfeeding with complementary foods for at least two years and beyond as mutually desired.
"There are short-term and long-term health benefits for both children and the breastfeeding parent which improve the health of the community, reducing healthcare costs, higher productivity, and lower absenteeism from work and school," McCloskey continued.
By signing onto the 'Breastfeeding Welcome Here Initiative,' the two parishes will allow a mother to freely feed her infants and young children in public, without ever being asked to cover up or move. If families request a private location to pump or feed, they will be directed to a comfortable space that is not a bathroom. Restrooms are not a hygienic place to prepare or eat a meal.
"We don't want to send a mother off to a lavatory to feed," Father McCreary said. "Nor do we want her to feel she doesn't belong here because the Mass and feeding schedules overlap."
Before affixing stickers to the doors of his parishes to let the community know of their support, Father McCreary also explained to his parishioners what this new 'welcome' will look like.
"If you're comfortable feeding in your pew, do it. If you want to step out to a more private place, we will give you some options. Our confessional rooms in both churches are open and offer comfortable seating. Saint Boniface also gives the option to go to the lounge, where you can continue to hear the Liturgy while you care for that child."
McCloskey said the more we see breastfeeding, the more natural it becomes. In addition to the two Roman Catholic parishes that have signed on, James V. Brown Library in Williamsport and the Lycoming County State Health Center have also signed onto the initiative.
"It's through creating an environment of acceptance to make families feel more comfortable and by educating the community to learn why it's important to accept breastfeeding that we are able to change our culture," McCloskey said. "We need to sensitively provide options to meet families where they are at to make sure they are comfortable."
For the two churches, it is all about being a part of the "welcoming church."
"Let young families – visitors and members – find a home here," Father McCreary said.