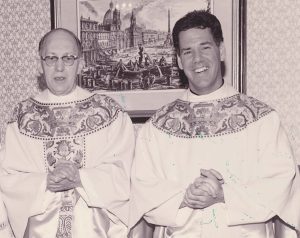 SCRANTON – When the phone rang in the middle of the night at the Saint Patrick Parish Rectory in West Scranton in the 1980s, Bishop John Dougherty was normally the first to pick it up.
"We would assume it was the hospital calling for someone to go over to anoint someone or give them Last Rites and before Monsignor Tressler or I could get to the phone to answer it, he would pick up the phone. Before moments passed, Bishop Dougherty would be dressed, in the car and on the way to the hospital," Father James Paisley said.
Father Paisley and Monsignor David Tressler were both assigned to be assistant pastors under Dougherty for their first assignments after ordination in the 1985. Both say Dougherty had a deep love for ministering to the sick and dying.
"He would go to the hospital almost every day when I was a newly ordained priest. I was with him three years. That was a priority to him," Monsignor Tressler said. "As assistants we had our assigned days to go, but he still would go late in the evening when his day was freed up."
As a young priest, Tressler said he learned how to be a pastor by watching Dougherty's humble example.
"I learned the importance of compassion, of taking time for people in need, being present to people. I think that was key," he said.
"Everything I do now, hopefully for the people, the needs of the people, for the Church and for my God, I learned all of that from his loving example," Paisley added. "I carry a little bit around and I will continue to do that long after he's gone now."
GOOD AND FAITHFUL SERVANT
Both Paisley and Tressler said Bishop Dougherty would never expect his assistants to do something that he would not do.
"He instilled my great love of the priesthood. I love my priesthood. I love being able to serve the people of God and I really attribute it to him because of the fact that he was a great example," Tressler said.
Paisley said even when he became Auxiliary Bishop of Scranton, Dougherty always worked to avoid attention and extravagant things.
"His big fancy car was a 1976 AMC Hornet and it literally, this is not an exaggeration, had a hole in the floor that you could see right down into the ground. Larry and I called it the 'Flintstone Mobile' because it was a Fred Flintstone kind of thing," Paisley said.
Deacon Ed Kelly, Parish Life Coordinator of Saint Mary Parish, Waymart, became close with Bishop Dougherty while previously serving with him at Christ the King Parish in Archbald.
"Maybe it's not a coincidence that he died in Cycle C in our Gospel, the Gospel of Luke, because the Gospel of Luke is known as the Gospel of Prayer," Deacon Kelly said.
Kelly said he would often find Bishop Dougherty alone in prayer.
"Witnessing with my own eyes, seeing him sit before the tabernacle, or visit one of the churches and sit there in silence, and letting the Lord speak to him, that's one thing I'm going to take with me from his legacy," he added.
LOVE OF CONFIRMATION
As an Auxiliary Bishop, Dougherty would often travel around the Diocese of Scranton celebrating the Sacrament of Confirmation with young adults in parishes.
Dougherty's fellow clergy say it was something he enjoyed.
"All of the priests know that he spoke at length at Confirmations. We would think, these kids are never going to pay any attention," Paisley joked.
It is usually the opposite – as Bishop Dougherty would be engaging and relatable.
"They were riveted to every word that he said. He would get right down there with them. His message was very powerful and very direct. They loved it. It stayed with them for years and years afterward. That is how much he loved the young people," Paisley said.
"I always found it so amazing how he really tried to engage them. He would get down on his knees and be eyeball to eyeball with the confirmation candidates," Tressler added. "He made them feel so much at home. He gave them a sense of hope and a sense of peace."
UNEXPECTED HUMOR
While all of Bishop Dougherty's clergy colleagues admit he had a reputation of being stern and serious, they all say he had a great sense of humor.
"He had this extraordinary poignant dry wit and it would come out a lot," Kelly said.
Monsignor Tressler said Dougherty's humor often came out when he would not heed his advice.
"He'd stand at the wall and talk to the wall. He would say, 'I get a better response out of this wall than out of you!'" Tressler recalled lovingly. "He also asked me if I was a piano player but he knew I had no musical ability. He said, 'You know what keys to play to get a reaction out of me.'"
"I'll never forget one night, in the middle of the winter, it was freezing cold outside, he said, come on we have to go somewhere. I got in the car with him and he scraped open a little, tiny opening. We went to the parking lot behind the school and he did donuts in the parking lot as I was holding on for dear life. I will never forget that. I couldn't wait to get out of the car but I enjoyed every minute of it as well. That is the kind of humor that he had, that hardly anyone ever saw," Paisley explained.
A LOVING EXAMPLE
While all of Dougherty's fellow clergymen admit he would not like all the attention that his funeral brought, they say it is all well deserved.
"Monsignor Dougherty was the best pastor we could have possibly had," Paisley said. "He taught by example. He didn't tell us what to do, he didn't force us to do anything, he taught by showing us what a good and holy priest would be."
"He was able to take the Church to the sick and dying and he was able to bring people to the Church," Kelly explained. "Bishop Dougherty understood, that not only was he bringing consolation through the Eucharist to the sick, he was also being consoled."
"He believed priesthood is a lifestyle, it's not a job, it's something that we're called to be priests 24 hours a day and he demonstrated that right up until the end of his life," Tressler added. "I'll be eternally grateful to Almighty God for having him in my life and his example. His compassion, his humility, his ability to give direction without being in anyway hurtful or critical. He just was a man who was rooted in his prayer life and he exuded that in everything that he did."