WILKES-BARRE – Four students from Holy Redeemer High School received recognition April 7 for their quick thinking and bravery after coming to the aid of their bus driver who had a medical emergency last month.
Kaden Ayre, Lainey Conway, Max Filchak and Ryan Martinelli each received keys to the city of Wilkes-Barre, along with proclamations from the Pennsylvania Senate.
"We gather today to celebrate you and to publically acknowledge our pride in your actions," Holy Redeemer principal Doreen Dougherty said in welcoming everyone to the ceremony. "Not only did you chart a course on March 21 during the bus incident but you blazed a trail, recognizing an issue existing, you acted decisively, definitively, cooperatively in the midst of a hazardous situation."
On March 21, a total of 13 high school and elementary school students from Holy Redeemer and Saint Nicholas/Saint Mary School were on a Rinehimer bus, headed from Wilkes-Barre to Mountain Top, when the driver began experiencing a medical emergency on Blackman Street in Wilkes-Barre Township.
That is when the four Catholic school students jumped into action.
"We worked almost like it was rehearsed, everyone just got to work," Conway, who was responsible for calling 911, explained. "Kaden and Ryan went to help the driver; they unbuckled him so they could get to the brake. We started rolling backwards so they stepped on the brake. We hit the car behind bus but we would have kept rolling if they didn't step on the brake."
Martinelli, 17, a junior, was sitting in the very back of the bus listening to music when the emergency started to unfold. His first instinct was to assist the driver as he dashed to the front of the bus.
"I loosened his jacket, took off his seat belt to see if he could get some air because it looked like he was having trouble breathing and then apply pressure to the brake to stop us from rolling backwards because we had hit the car behind us at that point," he said.
Martinelli is a member of the United States Navy Sea Cadet Corps. Prior to the incident, he had received training on responding to car accidents that was held by both active and retired police officers.
"I felt calm during the event," he added.
While Martinelli was attending to the driver, Ayre held the brake pedal down to keep the bus from rolling backward.
"Buses don't have park on them, it's only a foot brake. We didn't know that until we had the bus driver out of the seat," Ayre said. While the incident lasted only about a minute, the teen added, "I think God was with us that day."
While Ayre and Martinelli were attending to the driver, Filchak got the other students off the bus and out of danger.
"I didn't really think at all, I was just on my toes," Filchak explained.
Family members of each student, along with classmates, lawmakers and the media attended the recognition ceremony.
"It is such an honor and privilege to join you today in what I deem a celebration of community, a celebration of the Holy Redeemer School, a celebration of faith and a celebration of young men and a young woman who showed us all what it is to be a true hero," Sen. Lisa Baker, R-Lehman Township, said.
"The courage that you showed on March 21, I want you to continue that through your high school education, through your college education if you go to college, or in the military, whatever your chosen field is, continue that courage and as you get out into the workforce, continue that courage," Wilkes-Barre mayor George Brown added.
Kristen Donohue, Catholic Schools Superintendent in the Diocese of Scranton, also lauded the students' actions.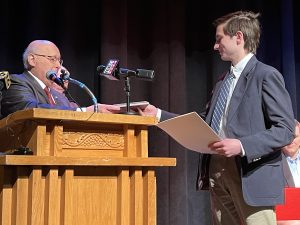 "I know God's presence was working through you, as your quick thinking and calm approach to an extremely complicated situation kept your classmates safe and provided the rapid medical attention for the bus driver," Donohue stated. "Your teamwork and confidence is truly remarkable. We are incredibly proud of each of you."
Scott Henry of Rinehimer Bus Lines also attended the recognition ceremony. He said the bus driver is recovering thanks to the valiant efforts of the students.
"My brother and I were raised Catholic. We're thanking Saint Christopher for putting you guys on the bus that day," Henry said.
While each of the students say they appreciate the attention and recognition they're getting, they don't belief their actions were "heroic" in nature.
"We just did what we had to do," Conway said.
"I don't know if I deserve it. I just did what I thought was right. I reacted to the situation how I knew how to," Martinelli added. "I'm confident that many of my peers would do a similar thing if they were in that situation."