HARVEYS LAKE – Exactly 100 years to the day of the first Mass celebrated at Our Lady of Victory Church on Sept. 3, 1923, parishioners filled the pews for a special centennial celebration.
The Most Reverend Joseph C. Bambera, Bishop of Scranton, was the principal celebrant and homilist for the church's 100th anniversary Mass on Sept. 3, 2023.
"There is a lot to give thanks for this day, most especially thanks and gratitude to God for the blessing of faith and for the gift of one another in and through whom the Lord is present and all of whom are truly the Church of Jesus Christ," Bishop Bambera said in welcoming the faithful to the liturgy.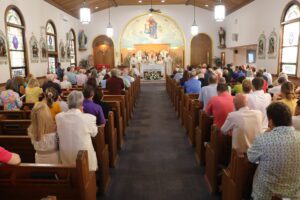 Dorothy Lutinski, 97, is the oldest living parishioner of the Harveys Lake parish. She was thrilled to attend the special Mass.
"I can't believe it that I'm here to celebrate this special occasion. Everything turned out so beautiful," Lutinski said. "I was a member of the choir for 35 years."
Many of those in attendance for the anniversary Mass have deep connections to the church building itself – including the descendants of those who helped to dig the foundation of the building who presented Bishop Bambera a special basket as the Mass began.
"Every gathering of God's people has special meaning," Bishop Bambera noted in his homily. "We give thanks today for the living presence of God here in our midst on this altar as countless other individuals have done in this church for 100 years."
Bishop Bambera thanked all of the people in attendance for helping to build up the Luzerne County church in his/her own way.
"It was just a beautiful celebration. Bishop Bambera said this is just a real treasure here and we are just blessed to be a part of this faith and this community," parishioner Sara McGrath said.
"What is overwhelming to me is the vitality of the parish. There are a lot of young people here, there is life here, they're willing to be active in the ways of the faith," Rev. Andrew S. Hvozdovic, pastor, Our Lady of Victory Parish, said.
During his homily, Bishop Bambera also gave parishioners a little history lesson. He asked if they were aware of the reason by the Most Rev. Michael Hoban, Second Bishop of Scranton, named the church Our Lady of Victory. He answered his own question – saying it was to honor soldiers from Harveys Lake (and the Diocese of Scranton) who served during World War I.
"What a wonderful way to commemorate the lives of those veterans who served and most of the recruits from this area, interestingly enough, served in Spain during the War. Hence, the reason for the architecture of your church which has a little bit of Spanish flavor to it," Bishop Bambera noted.
While parishioners know the church is truly the People of God, many say the building itself is a critical piece of infrastructure for the lakeside community.
"One of the reasons that my husband and I bought the house that we did, is that when we sit on our porch we can see this beautiful church and everything that means to us. Our faith is here," parishioner Merry Ann Edwards said. "Everybody here is just so loving and giving. We all enjoy working together to do what we can for the church and our community. I'm honored and blessed to be part of this parish."
"I think everyone in the community carries on the work of Christ as we see them around the lake and on the lake and in church," McGrath added. "Every one just has such a loving and welcoming spirit here."