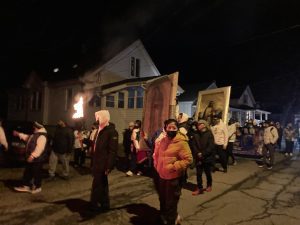 EAST STROUDSBURG – For more than a decade, Saint Matthew Parish has received the "Guadalupana Torch," a burning symbol of hope, in the days leading up to the Feast of Our Lady of Guadalupe on Dec. 12. This year is no exception.
Dozens of people gathered in the Rite Aid Pharmacy parking lot in East Stroudsburg on Dec. 1 awaiting the torch's local arrival.
"It is our faith, our tradition," Carlos Albuja, parishioner of Saint Matthew Parish, explained.
"This is all about our faith. It is very important to us," Julio Sanchez, parishioner of Saint Matthew Parish, added. "We are one family, one church, one community."
The Guadalupana Torch comes from the Basilica of Our Lady of Guadalupe in Mexico City and goes across parishes in the United States before ending in New York City on Dec. 12.
After its arrival in Monroe County, a procession was held to Saint Matthew Parish where Mass was celebrated at the church.
"It is beautiful seeing that the torch is being passed down all the way from Mexico, all the way through several states and seeing all these people coming together," Martin Sanchez, parishioner of Saint Matthew Parish, said.
On Dec. 12, the faithful commemorate the day that the Virgin of Guadalupe, also the patron saint of Americas, appeared to a Mexican Indian peasant – now venerated as Saint Juan Diego – in 1531 on the Tepeyac hill where the Basilica of Guadalupe was built.
"She came to give love, the faith to believe everything is possible with faith in God," Alma Lecama, parishioner of Saint Matthew Parish, explained.
"Growing up, learning to love, learning that she loves us all and cares for us, it's a very beautiful thing and I think it means a lot to everybody," Sanchez added.
The faithful of Saint Matthew Parish hope to continue receiving the Guadalupana Torch each year. Following its brief visit in the Poconos, it traveled to parishes in neighboring New Jersey.
"We are really happy to receive one more year Our Lady of Guadalupe and I hope Our Lady brings a lot of blessings for all of us," Carmita Avecillas, parishioner of Saint Matthew Parish, said.
"As a young adult, this activity embraces my faith in the Catholic community," Stephanie Albuja added.