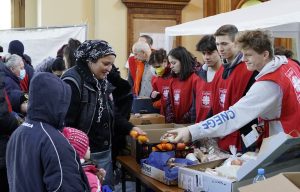 BUDAPEST, Hungary (CNS) – As thousands of refugees from Ukraine continue to cross over the Hungarian border, Budapest's Keleti train station has become a central hub on their paths to escape violence and search for some sense of normalcy amid the chaos.
For the past two weeks, religious and other charitable organizations such as Caritas Hungary, the Knights of Malta and the Red Cross have distributed food, clothing and other items to the continuous waves of refugees coming through the station, which is always crowded.
The hustle and bustle at the station was no different March 12, as the various charities distributed much-needed food and basic materials not only to refugees from Ukraine, but also to the city's poor and homeless who arrived at the station seeking help.
"No one is denied help here," said Mark, a volunteer working at the station for Caritas Hungary, who preferred to give only his first name.
A group of volunteers speedily handed out bags of food and other goods to those who approached. A young Roma girl standing near the table, however, had her eye on a small plush toy but remained silent. Noticing the girl, one volunteer smiled and handed her the toy along with some candy that she happily accepted.
Mark told Catholic News Service that the crisis was far from being a burden for Hungarians who stepped up to help those in need. Volunteers who offered to help, he said, "have to wait their turn because every job is taken until the end of March."