HAZLETON — A Mass of Christian Burial was celebrated for Father Thomas A. Cappelloni on Friday, Aug. 4, in the Church of Saint Gabriel at Annunciation Parish in Hazleton. Retired from active ministry for the past 11 years, Father Cappelloni died July 29 at his home in Hazleton.
Born in Scranton on Nov. 13, 1950, son of the late Frank and Ann Butler Cappelloni, Father Cappelloni was a graduate of South Scranton Central Catholic High School and began his preparatory studies for the priesthood at Saint Pius X Seminary, Dalton. He completed theological training and formation at Mount Saint Mary's Seminary, Emmitsburg, Md., where he earned a master's degree in systematic theology.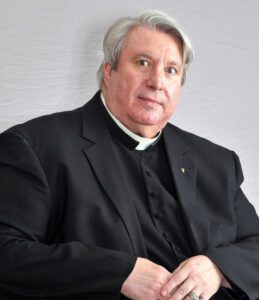 Father Cappelloni was ordained a priest for the Diocese of Scranton on May 1, 1976, in the Cathedral of Saint Peter by the late Most Rev. J. Carroll McCormick, sixth Bishop of Scranton. Following ordination, he received his summer assignment as assistant pastor of Saint Basil Parish, Dushore, after which he was appointed assistant pastor of Saint Lucy Parish in West Scranton.
In August 1978, Father Cappelloni was named assistant pastor at Saint John the Evangelist Parish, Honesdale, where he served until being assigned in the same capacity at Saint Aloysius Parish, Wilkes-Barre, in June 1982.
During his first pastorate, beginning in 1987 at Saint Martin of Tours Parish in Jackson where he served for 14 years, Father Cappelloni spearheaded the expansion of the parish church, with the worship site doubling in size, and supervised the construction of a new catechetical center.
Shortly after being named pastor of Holy Name of Jesus Parish, Scranton, in July 2001, he was assigned as administrator of Our Lady of Grace Parish, Hazleton, where he was named as pastor in July 2002.
While fulfilling his duties for nearly ten years at the Hazleton parish, Father Cappelloni was appointed director of the National Shrine of the Sacred Heart of Jesus in nearby Harleigh. He retired from pastoral ministry in April 2012 due to reasons of health.
In addition to his parochial duties, Father Cappelloni served the Scranton Diocese as Dean of Susquehanna County from January 1992 to December 2000; as a catechist at Bishop Hannan High School, Scranton, and Honesdale Catholic School; and Advocate for the Diocesan Tribunal Office. He later served as chaplain of the Hazleton City Police Department.
Well known for his love of the culinary arts and cooking skills, Father Cappelloni was also an accomplished musician and organist. He will also be remembered for helping to establish a charitable trust fund for stray animals.
Surviving are an older brother, Francis (Frank) Cappelloni, and younger sister, Mary Ann Cappelloni Folk; numerous nieces and nephews, including Mara (Joseph) Cappelloni Lopez and their children, Alexa and Jackson; Corey Cappelloni and daughter, Emma; Brant (Nikki) Cappelloni and children, Gabriella, Christopher and Paul; Kristen (Patrick) Conaway and children, Reagan and Abigale; Lauren (Adam) Ercolini and daughter, Emilia; and Christopher Folk.
Interment was held in Nuremberg Cemetery in Schuylkill County.