VATICAN CITY (CNS) – Everyone must engage in politics, which is simply what it means to take part constructively in the life of a nation or society, Pope Francis said in a new book of interviews.
Even the Gospel has "a political dimension" in that it seeks to convert "the social, including religious, mindset of the people," he said, according to a series of excerpts published by Vatican News and other outlets Feb. 26.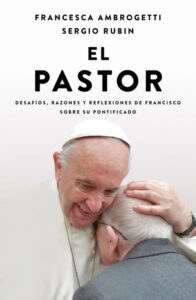 Marking the 10th anniversary of the pope's election, journalists Sergio Rubin and Francesca Ambrogetti will release a book-length compilation of a decade of interviews with the pope in Spanish March 1.
Titled "El Pastor" ("The Shepherd"), the book covers the "challenges, reasons and reflections" of Pope Francis over the course of his pontificate. Rubin and Ambrogetti had previously compiled two years of interviews with then-Cardinal Jorge Bergoglio of Buenos Aires for their 2010 book "The Jesuit," which became a bestseller after the cardinal was elected pontiff, and retitled "Pope Francis. Conversations with Jorge Bergoglio: His Life in His Own Words."
In "The Shepherd," the authors pick up where they left off to cover his papacy and the path he has followed.
He said his plan has always been "to carry out what the cardinals expressed in the general congregations on the eve of the conclave," which was to "revitalize the proclamation of the Gospel, reduce centralization in the Vatican," eradicate the abuse of minors and fight economic corruption.
When asked what he would say to those who accuse him of "doing politics," the pope said, "Yes, I am doing politics. Because everybody has to do politics. Christian people have to do politics. When we read what Jesus said we see that he was doing politics."
The pope then explained what he meant by "politics," saying it is "a way of life for the 'polis,' for the city."
"What I do not do, nor should the church do, is party (or partisan) politics. But the Gospel has a political dimension, which is to transform the social, including religious, mindset of the people," he said.
Speaking about the increasing polarization in the world, the pope said, "we are not water and oil, we are brothers and sisters."
Humanity must rise above this "category of water and oil and move toward fraternity," which is precisely what people have a hard time seeing when there is a conflict, that their vocation is fraternity, he said.
"When we ignore this, divisions begin and it's like that everywhere," he said.
When it comes to economic activity, Pope Francis said he does not "condemn" capitalism or the market economy, but that there needs to be what St. John Paul II advocated for, that is, a new "social economy of the market," which would balance competition and social progress.
Today, the world of finance prevails, he said, and "where we can all agree is that the concentration of wealth and inequalities have increased and many people die of hunger." If he focuses so much on the poor and those in need, "that's because that is what Jesus did and what the Gospel says."