WILKES-BARRE – Faculty, administrators, students and Catholic school families are fondly remembering Mrs. Doreen Dougherty, the principal of Holy Redeemer High School, who passed away on Aug. 20, 2023.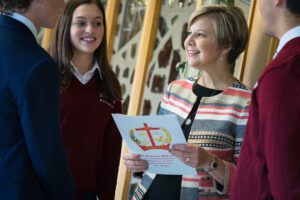 "On behalf of the Diocese of Scranton Catholic School System, I wish to extend my sincerest condolences to Dougherty family and to all members of our Holy Redeemer School Family," Kristen Donohue, Diocesan Secretary for Catholic Education/Superintendent of Schools, said in a release sent to school families. " Doreen had a lasting, positive impact on our Catholic schools and on all who knew her. I ask you to join me in praying for the Dougherty family and friends to find peace and strength during this time of incredible sadness."
Dougherty, 54, of Shavertown, became principal of Holy Redeemer High School in 2019. She had also served as principal of All Saints Academy in Scranton.
Due to the passing of Mrs. Dougherty, the start of the Holy Redeemer High School academic year is being postponed by one week. 
The first day of school for freshmen will now be Tuesday, Sept. 5. The first full day of school for all students will now be Wednesday, Sept. 6.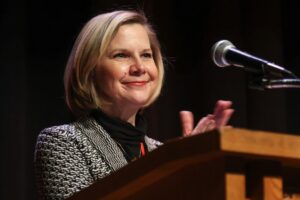 "We are all navigating this tumultuous time in different ways, but together, in God's grace, we will move forward as one Royal community," Holy Redeemer Vice Principal Cody Opalka said.
Funeral arrangements are as follows:
Viewing: Thursday, August 24, 2023
4:00 p.m. to 8:00 p.m.
Holy Redeemer High School Auditorium
159 S. Pennsylvania Blvd.
Wilkes-Barre, PA 18701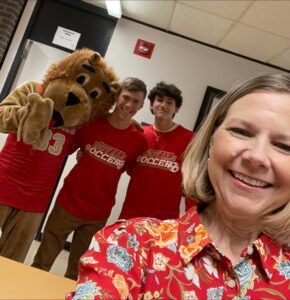 Funeral: Friday, August 25, 2023
Second Viewing: 8:30 a.m. to 9:30 a.m.
Funeral Mass at 10:00 a.m.
Saint Elizabeth Ann Seton Parish
116 Hughes Street
Swoyersville, PA 18704
Full Obituary for Mrs. Doreen Dougherty
Doreen Suzanne Dougherty, 54, of Shavertown, passed away peacefully Sunday morning, Aug. 20, 2023, at home, surrounded by her loving family.
Born April 15, 1969, in Kingston, Doreen was the daughter of Joseph Lipinski and Elaine Repak Lipinski. She was the valedictorian of Bishop O'Reilly High School, Class of 1987. Doreen continued her education at Marywood College and received her Bachelor of Arts degree in communications with a minor in marketing. After graduating, Doreen held multiple positions at WBRE, including programming director.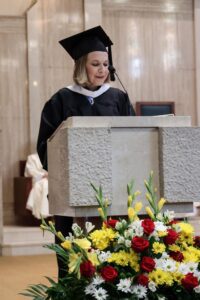 Following her motto, "Ohana," meaning "family," Doreen decided to leave her career to take on her biggest and most fulfilling role: raising her beautiful children. Being heavily involved as a volunteer at her children's school led her to discover her passion for education. Doreen worked as an instructional aide at Regis Elementary and then Good Shepherd Academy while attending King's College to earn her teaching certifications. She was later placed at All Saints Academy and continued to develop their Individualized Instruction Program, which always held a special place in her heart.
Always wanting to advance her career in education, Doreen returned to Marywood for her Master of Science degree in school leadership. Her unwavering dedication to Catholic education drove her to become the building principal of All Saints Academy. In the fall of 2019, Doreen was proud to be named the principal of Holy Redeemer High School. Both All Saints Academy and Holy Redeemer High School served as her second homes.
Doreen's Catholic identity was evident to everyone she met. She was an active member of Holy Trinity Parish, Swoyersville, now consolidated into St. Elizabeth Ann Seton Parish. During her youth, she was a church organist and a member of the choir. Doreen became a member of the Confraternity of Christian Mothers and enjoyed attending their Christmas parties and Mother's Day Teas with her mom, gramma and family. Also, she loved volunteering her time to the church bazaar each summer by running the theme basket stand.
Anyone who knew Doreen, knows family was everything to her. Doreen's true love is her husband, Robert, with whom she would have celebrated 30 wonderful years of marriage in October. Together they built a beautiful family with four children. Her daughter, Shaina, was her best friend, shopping partner and biggest fan. Doreen inspired Shaina to work in the field of education and to also become a principal. Her sons, Robert and Devin emanate her compassionate nature as they both enter health care professions, ensuring their patients feel the same care and support Doreen radiated. Collin embodies Doreen's infectious smile and her creative nature. She was proud of his pursuit toward a career in architecture and Collin currently attends Marywood University, like his mother.
Doreen never met a challenge she couldn't overcome, and her competitiveness shone through in all that she did. She was an avid fan of the Green Bay Packers and enjoyed football Sundays and pizza nights at her parents' house. Doreen relished in rousing games of Pictionary, Trivial Pursuit, Taboo, Parcheesi and more. She didn't shy away from scaling a rock climbing wall at All Saints Academy or playing dodgeball with the girls' basketball team at Holy Redeemer. As a former cheerleader, Doreen knew well how to motivate others, tirelessly supporting both her family and school communities academically and athletically. Doreen loved cheering on her All Saints Academy Knights and Holy Redeemer Royals, whether it was a sporting event, musical, award ceremony or talent show. She was driven to ensure every student can reach his or her fullest potential, just as if they were her own children.
She proudly shared a birthday with her father. She looked forward to yearly family vacations at Hilton Head Island in South Carolina, where she could be seen reading quietly near the water, collecting shells on the shore, playing soccer tennis on the beach or playing volleyball in the pool with all of her children, nieces and nephews. Doreen loved Christmas and considered it "the most wonderful time of the year." She filled the Christmas season with many wonderful traditions including baking, decorating the tree, bayberry candles, matching pajamas and making Christmas day dinner for all of her family. She looked forward to curling up on the couch with her puppy, Bandit, to watch a Hallmark Christmas movie with a bowl of popcorn.
Doreen was preceded in death by her grandparents, Michael and Margaret Repak; and Joseph and Eleanor Lipinski; and father-in-law and mother-in-law, Joseph and Theresa Dougherty.
Left to cherish Doreen's memory are her husband, Robert, Shavertown; daughter, Shaina Aquilina and her husband, John Patrick, Swoyersville; sons, Robert Dougherty and his wife, Alexis, Drums; Devin Dougherty and Collin Dougherty, both of Shavertown; her parents, Joseph and Elaine Lipinski, Swoyersville; sister, Leane DelBalso and her husband, Pat, and their three children, Patrick, Jillian and Brandon, all of Plains Twp.; brother, Joseph and his wife, Janicemarie and their three children, Joey, Nicholas and Hazel, Swoyersville; uncle, Michael Repak and his wife, Ann Marie, Larksville; Joseph Dougherty and his wife, Kathy, Dublin, Ohio, and their children, Meghan, Joseph and Kyle; John Dougherty and his wife, Kathleen, Kingston, and their children, Kylene, Brianne and John Anthony; Dennis Dougherty, Lake Ariel, and his children, Connor, Dana, and Ian; and Kevin Dougherty, Edwardsville.
Along with numerous great-nieces and great-nephews, cousins, aunts, uncles and friends, Doreen's constant companion and loyal cuddle buddy, Bandit, will miss her infectious smile and loving presence.
Doreen's family would like to extend all of our love and heartfelt gratitude to the many doctors, nurses, hospital staff and home health nurses who lovingly cared for her.
Relatives and friends are respectfully invited to attend Doreen's viewing which will be held from 4 to 8 p.m. Thursday in Holy Redeemer High School Auditorium, 159 S. Pennsylvania Ave., Wilkes-Barre.
Funeral services for Doreen will begin with an additional viewing from 8:30 to 9:30 a.m. Friday in St. Elizabeth Ann Seton Parish, 116 Hughes St., Swoyersville, followed by a con-celebrated Mass of Christian Burial at 10 a.m. The Rev. Joseph J. Pisaneschi, her pastor, will be the main celebrant; Monsignor David L. Tressler will serve as homilist; and the Most Rev. Joseph C. Bambera, D.D., J.C.L., Bishop of the Diocese of Scranton, will convey the Rite of Final Commendation.
Interment with the Rite of Committal will follow in St. Mary's Roman Catholic Cemetery, Swoyersville.
Funeral arrangements for the Dougherty family have been entrusted to the care of Wroblewski Funeral Home Inc., 1442 Wyoming Ave., Forty Fort.
To share a message of condolence with Doreen's family, you may visit the funeral home's website, www.wroblewskifuneralhome.com, or Facebook page.
In lieu of flowers, Doreen's family asks that you consider making a donation which will be used toward a memorial scholarship fund in her honor. Donations can be made by visiting https://www.luzfdn.org/types-of-funds/ and clicking on the Doreen S. Dougherty Memorial Scholarship Fund or mail your donation to: The Doreen S. Dougherty Memorial Scholarship Fund, c/o The Luzerne Foundation, 34 S. River St., Wilkes-Barre, PA 18702.