WILKES-BARRE – Three long-time educators in the Diocese of Scranton Catholic School System were honored with the Saint John Paul II Award during the Diocesan Teachers' Institute Mass on Sept. 25, 2023.
Kimberly Art, April Ayres, and Brenda Quattrini were each presented the award for 25 years of dedicated service to Catholic education in the Diocese of Scranton by the Most Rev. Joseph C. Bambera, Bishop of Scranton, at Saint Nicholas Church.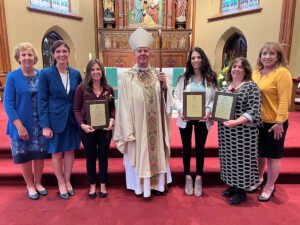 "I'm very excited and very proud," Art said. "I know it is not easy to stick with something that long but I'm very proud and glad that I'm able to be in this school system."
Art began her career as the computer teacher at Saint Mary of Mount Carmel School in Dunmore and then moved into the role of fourth grade teacher in 2001. She has been there ever since.
"I'm Catholic. I lead with my heart, and I lead with Jesus, and I love that I'm able to incorporate Jesus into my daily lesson plans and my daily teaching and I'm glad that I can have Jesus lead me in teaching the children," she explained.
Quattrini attended Epiphany School in Sayre and in second grade decided she wanted to teach second grade.
"My second-grade teacher was my favorite teacher, and this was my dream, and I am living my dream," she explained.
Quattrini says she would not trade her experience in Catholic education for anything.
"I love how we're all family and we want to pass our religion onto the kids," the long-time educator added. "I am just thrilled to be a part of it and that Sister Kathleen hired me many years ago!"
Catholic school educators impart a distinctive character to the education profession. They create an environment where the young grow and learn. They also direct the learning process, designing programs and developing ways to encourage success.
Most especially, they are witnesses to the faith, serving as sharers in the mission of Jesus Christ by leading young people to know, love, and serve God.
Ayres also grew up attending Catholic schools, including Saint Michael's in Jessup and Bishop O'Hara High School in Dunmore.
"I knew from an early age that I wanted to become a teacher when my brother was born. I was captivated by how learning occurs. That was just my calling. I knew that is what I wanted to do," Ayres said.
First hired at Saint Mary's in Dickson City, Ayres now teaches at La Salle Academy in Jessup. She spent three years teaching third grade and has taught fifth grade for 22 years.
"I grew up with a Catholic education. It was fabulous, the teachers, the support, the family atmosphere. I stayed all the way through high school. I promote it, I agree with it, I support it, and I absolutely love it," she added.
When asked what she would say to someone considering becoming a Catholic school educator, Ayres said it is a place where anyone can not only teach, but lead, inspire, challenge, and encourage.
"You will absolutely love it," Ayres stated. "It's family. It's a second home."