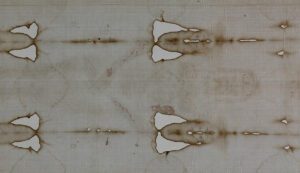 CANTON — The Knights of Columbus of Saint Michael Parish will host a one-hour presentation on the venerable Shroud of Turin on Saturday, March 25, at the Canton church.
Following the 4 p.m. vigil Mass at Saint Michael Church, the program on the mysterious burial cloth by Alex Piechochi will be offered at 5 p.m. in the parish's social hall. The public is welcome free of charge.
Piechochi's detailed discourse, which will be accompanied by a full size replica of the Shroud, will explore the circuitous history and intriguing facts associated with the much-scrutinized fabric that for centuries has been piously believed in the Christian world to be the sacred wrapping of the crucified Lord.
A light meal and fellowship will follow the Shroud presentation. For more information, call the parish office at (570) 673-5253.