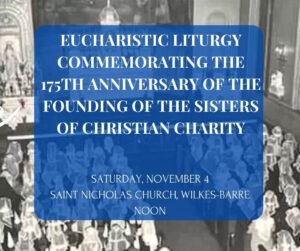 WILKES-BARRE — The Diocese of Scranton will fittingly share in the yearlong commemoration of the 175th anniversary of the founding of the Sisters of Christian Charity (SCC) when the Most Rev. Joseph C. Bambera, Bishop of Scranton, will celebrate a jubilee Eucharistic liturgy next month in Wilkes-Barre, where the religious Sisters began their venerable ministry in America.
Bishop Bambera will serve as principal celebrant of a Pontifical Mass of Thanksgiving on Saturday, Nov. 4, at noon at Saint Nicholas Church, Wilkes-Barre.
In addition to marking 175 years since the SCC congregation was established in Germany, the liturgy will also celebrate the 150th anniversary of the arrival of Christian Charity Sisters in the Scranton Diocese and, thus, the United States.
Blessed Pauline von Mallinckrodt, foundress of the Sisters of Christian Charity, was born on June 3, 1817, in Minden, Germany, and at a young age was drawn to care for impoverished families in Paderborn — nursing their sick and providing them food. In 1840, her charitable work extended to Catholic education with the opening of a kindergarten and school for blind children.
As Pauline's burning love for God and care for the needy led her to consider a religious vocation, she was advised to begin her own community of women religious. On Aug. 21, 1849, Pauline, together with three other women founded the Sisters of Christian Charity, whose ministry soon spread rapidly throughout Germany and, eventually, North and South America.
At the request of Monsignor Peter Nagel, and with the blessing of Bishop William O'Hara, first Bishop of Scranton, Christian Charity Sisters arrived as Saint Nicholas Parish in Wilkes-Barre on Oct. 15, 1873, at the direction of Mother Pauline. The foundress graciously welcomed the request for SCC nuns to serve as teachers in Diocesan schools as Catholic education was suffering from military repression in her native Germany.
Upon welcoming Mother Pauline on her visit to the United States, Bishop O'Hara granted her permission to establish a permanent presence in Wilkes-Barre. By 1877, the new SCC Motherhouse – Mallinckrodt Convent — was ready for occupancy.
The residence also included Saint Ann's Academy, a private school for girls.
Eventually, the Motherhouse headquarters was transferred to Wilmette, Ill., in 1916, and then to Mendham, N.J., in 1927.
German Catholic pastors throughout the Scranton Diocese soon requested the Christian Charity Sisters to teach in their parish schools, and the congregation grew quickly beyond diocesan borders and throughout the U.S.
Along with their ministry in Catholic education, the SCC religious community responded to the need for Catholic healthcare, which led the Sisters to purchase land in Williamsport and build Divine Providence Hospital, known today as UPMC.
Throughout the years, the charism and ministries of the Sisters of Christian Charity has adapted to the changing needs of the Catholic Church, particularly in the areas of education, healthcare and social work of various kinds. Pauline von Mallinckrodt died April 30, 1881, was beatified by Pope Saint John Paul II on April 14, 1985.
Since their arrival in the United States 150 years ago, the Sisters of Christian Charity have served in nearly 20 states and at the following Catholic parishes and schools in the Diocese of Scranton:
Saint Nicholas, Saint Ann's Academy, Saint Boniface and Bishop Hoban/Holy Redeemer High School, Wilkes-Barre; Saint Mary Assumption and Seton Catholic High School, Pittston; Sacred Heart, Luzerne; Saint Mary Assumption and Saint John the Baptist, Scranton; Saint Boniface, Saint Mary High School, Saint Ann, Bishop Neumann High School, Saint Anthony Center and Divine Providence Hospital, Williamsport; Immaculate Conception, Bastress; Saint Mary Magdalen, Honesdale; Saint Basil, Dushore; Sacred Heart, Duryea; Central Catholic/Bishop O'Reilly High School, Kingston; and Holy Trinity and Bishop Hafey High School, Hazleton.
Currently, the Sisters serve in ministry at Saint Nicholas Parish, Wilkes-Barre; Saint Jude Parish, Mountain Top; Nativity Miguel School, Scranton; and UPMC in Williamsport and Muncy.