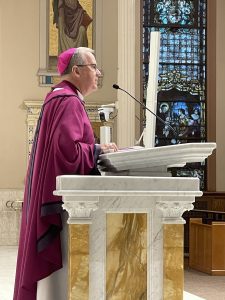 SCRANTON – Acknowledging that most people will never know the depth of pain that survivors of sexual abuse endure, the Most Rev. Joseph C. Bambera, Bishop of Scranton, presided at a Healing Mass for Survivors of Abuse on April 7. The liturgy was held at the Cathedral of Saint Peter.
"As Bishop of this local Church, I continue to apologize for the pain that has been inflicted upon far too many of you by leaders of our Church. I once again ask for forgiveness from the countless numbers of you who have suffered so much," Bishop Bambera said. "And as I have shared many times before, I pledge to do all within my power to keep our Churches and schools safe for our children and for all of our people to worship, to pray, to learn and to grow in their faith."
The Diocese of Scranton has celebrated a Healing Mass for survivors of abuse for four years.
"It is vital that we continue to pray for survivors of abuse. Why? Because there is still pain. A few years of public prayer can't change a lifetime of suffering. So many survivors continue to be burdened by nightmares of inhuman behavior on the part of those who should have been trustworthy but were not," the bishop continued.
The Healing Mass took place at the beginning of April, a month dedicated to child abuse prevention efforts. During the Mass, the faithful prayed for church leaders to continue working to protect the most vulnerable from harm and for those who have suffered abuse that they may have the courage to tell their story and find the necessary support.
During his homily, the bishop explained some of the lessons he has learned from his conversations with abuse survivors.
"They've taught me that if the Church is truly intent upon creating safe environments for its children and all of God's people, the Church – and especially Church leaders – must never forget or allow time to numb us to the pain that was so willfully inflicted on innocent lives by those who postured themselves as God's representatives and ministers of his love and mercy," Bishop Bambera said.
He continued, "While the Church has become much more cognizant of the need to eradicate this horrific behavior from its ranks once and for all, this crisis is not over! Far too many of our members continue to suffer. And only our recognition and acknowledgement of their pain can truly prompt us to change and to create a Church deserving of people's trust."
Emphasizing that "time doesn't always heal," the bishop encouraged anyone who is struggling to give God room to step into their lives.
The Diocese of Scranton's Child Protection and Safe Environment Policy requires mandatory reporting of suspected child abuse and the immediate removal of someone credibly accused of abuse. It also emphasizes transparency and pastoral case in abuse cases.
The policy also requires that all clergy, employees and volunteers who will encounter children while working or volunteering for any diocesan institution and/or program will undergo the relevant state and federal criminal background checks. The policy also includes ongoing education for children and youth, as well as for adult staff members and volunteers, designed to help prevent abuse from happening.
Information on the Diocese of Scranton's Child Protection and Safe Environment Policy can be found online at dioceseofscranton.org/child-protection-victim-assistance