SCRANTON – Being deaf or hearing-impaired can be a barrier for Catholics who want to attend church on a weekly basis.
That is why campus ministry members at The University of Scranton are excited to announce they will begin offering a regular American Sign Language Mass next month.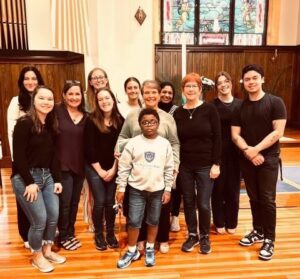 "At World Youth Day, Pope Francis said the Church is open to 'everyone, everyone, everyone.' This is a perfect way to make the doors of the Church open to even more people and help more people feel welcome and at home," Dr. Daniel Cosacchi, Vice President for Mission and Ministry at The University of Scranton, said. "If folks aren't able to hear the Gospel, they can't know it."
Mary Ann Stefko will sign the Mass with the assistance of The Royal Signers. Stefko is an adjunct professor in the World Languages and Cultures Department.
"You want people to be able to worship and experience the Mass in their native language, in a language that is accessible to them," Stefko said. "For deaf and hard-of-hearing people, spoken English is not always accessible and there aren't a lot of opportunities throughout the region for deaf and hard-of-hearing people to participate where there is the use of sign language."
Beginning on Sept. 10, the American Sign Language Mass will be offered weekly at 11 a.m. in Madonna Della Strada Chapel, 415 Monroe Avenue, Scranton. The only times the American Sign Language Mass will not be held is when students are away on breaks throughout the year.
"The students are going to be doing it with me from the beginning. They will be signing pieces of the Mass like the responsorial psalms and other songs," Stefko added. "There are staff members from The University of Scranton who are also knowledgeable in American Sign Language and they will be included as well."
The National Catholic Office for the Deaf estimates there are about 5.7 million deaf or hard-of-hearing Catholics in the United States. Only a small fraction of them, estimated to be one-to-four percent of that number, attend Mass on a weekly basis because of the lack of American Sign Language-interpreted Masses and events.
Stefko says it is not only deaf or hard-of-hearing people who rely on American Sign Language. She points to children who are non-verbal and adults who have had strokes as examples of other people who benefit from sign language.
"Everybody is welcome and we welcome anybody who could benefit from the use of sign language," she added. "We will have special seating available for them so we'll make sure it is accessible."
As he expressed excitement for the new ministry that will be beginning, Cosacchi said the new Mass will not only benefit the community but the students who will be participating.
"It gives them a real world opportunity to practice what they've been learning in the classroom," he stated. "That is so much a part of what a Jesuit education is about – reflection and action – what we learn in the classroom is not meant to be kept in the classroom. It's meant to be given away."
For further details about the American Sign Language Mass, call (570) 941-7419 or email campusministry@scranton.edu.