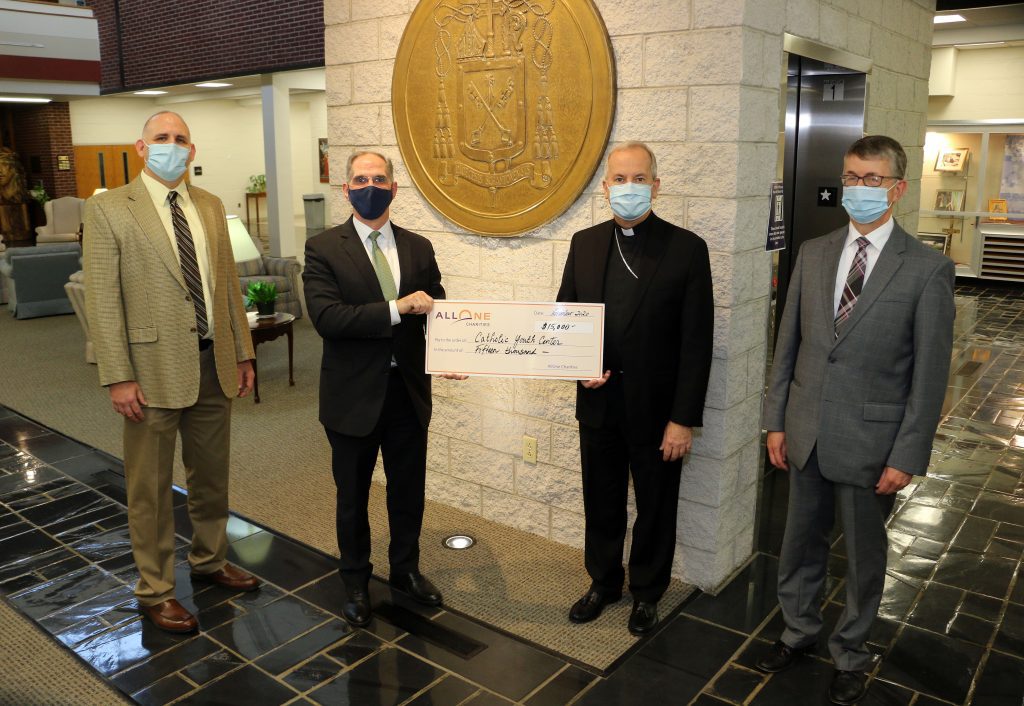 A $15,000 grant from AllOne Charities will support the Wyoming Valley Catholic Youth Center's Respite Care Program, which offers a much-needed break to caregivers for children ages 5-13 who are actively receiving mental-health services.
The program is run in partnership with Luzerne County Mental Health & Developmental Services and its System of Care and has seen greatly increasing client numbers during the COVID-19 pandemic.
"Wilkes-Barre CYC is on the front lines of providing excellent, compassionate and quality care for those with special needs and for those who care for them," said John Cosgrove, executive director of AllOne Foundation & Charities. "AllOne Charities is pleased to support their invaluable work."
The program serves newfound caregivers who lack child-care resources or natural supports as well as the children themselves. Many of the caregivers are grandparents or great-grandparents raising grandchildren or great-grandchildren, so they welcome the opportunity for supervised recreational, athletic and social activity, along with overnight care, especially when they are feeling most stressed and exhausted from their new responsibilities.
The Respite Care program offers sanctuary for children and solace for caregivers needing time to rest, restore energy and provide self-care. It serves more than 50 children and has a growing waiting/referral list that now includes 95 more children.
"Given the numbers we are seeing during the pandemic, we are incredibly grateful to AllOne Charities for helping us accept new families into this valuable program," said Ryan Smith, program executive at the CYC. "Mental-health struggles have been another unfortunate result of the COVID-19
crisis, so we are especially appreciative of such assistance as we continue to prioritize programs that foster emotional health and psychological well-being."
Healthy meals are an important component of the Respite Care program as well. The CYC has become the main provider of daily nutrition to the children it serves. Overall, the CYC serves 11,100 meals per month during the school year and 23,100 meals per month during summers. Of those
meals, at least 80 per month during the school year and 260 per month during summers are offered to children in the Respite Care Program.
"Emotionally caring for children, feeding them and now helping them one-on-one with their virtual schooling are now core and critical to what we do at the CYC," Smith said. "Many of the children we serve, in addition to needing socialization and recreation opportunities, also need our assistance
now more than ever with their schooling, so having these children come to us throughthe Respite Care Program ensures that we are not leaving students behind and that we are
meeting their full range of needs."