PECKVILLE – Hundreds of people gathered throughout the day on Sunday, Sept. 17, 2023, on the parish grounds of Sacred Heart of Jesus Church in Peckville, as well as in the church, for a day of Eucharistic Revival that renewed the faithful's knowledge and love of Our Lord's gift of the Eucharist to us. Immediately following the 10:00 a.m. Sunday Mass, children gathered under a tent to learn about Eucharistic Adoration as they prayed and gave praise to God in the Eucharist and then went forth to share their light with the world.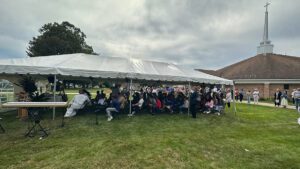 After a period of quiet Adoration, all those gathered in the tent prayed a Rosary for Eucharistic Revival and the Divine Mercy Chaplet. Soon after, a light rain prompted the remainder of the program to be moved inside. This did not dampen the spirit as the parish music ministry continued praising and worshipping God in song, as the Blessed Sacrament remained exposed inside the church. Then, a communal Anointing service provided a great number of individuals the opportunity to receive the Sacrament of the Anointing of the Sick.
The Eucharistic Revival Day culminated with a Mass of Thanksgiving with pastor, Rev. Andrew Kurovsky, and concelebrant and guest homilist, Msgr. Richard LaVerghetta, who challenged the community to continue to Adore, Receive and Become Jesus Christ, through the grace of the Eucharist. His challenge to expand our own "tents," individually, and as a parish, is definitely in keeping with the parish motto: "the Round Church, where there's room for everyone!"
The day concluded with a parish pasta dinner in the parish hall, enjoyed by nearly 250 people and provided with the help of Fiorelli's Catering and volunteers from the parish and Cub Scouts Pack 34 Jessup.
"Eukharistos," Greek for "Eucharist," means "grateful." What a perfect word, as the entire Sacred Heart of Jesus community is grateful for all the parishioners and friends who gathered under the tent and in the church for this most memorable day. Even the rain made the gathering memorable by blessing all with a special "sprinkling rite" during this day of Eucharistic Revival!