SCRANTON – Born and raised just one street over from the Basilica of the National Shrine of Saint Ann, Kathy Dennebaum feels a deep connection to the annual Solemn Novena. She makes it a priority to attend services each year.
"I've had three major intentions that I've brought to the Novena and all three of them came to fruition so I'm a firm believer," she explained.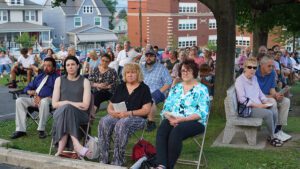 An estimated 8,000 to 10,000 people attended Novena services each day this year.
"This has been a very sacred place since I was a little kid. My grandmother and grandfather had nine children that came here and were all members of this parish until they died," Dennebaum added. "I just like to come and listen to the priests when they speak. A lot of times it's very meaningful."
The West Scranton native, who has been married to her husband Mark for 45 years, now bring their own grandson to experience the peace that comes from the prayerful place.
"I think it goes back to the fact that we grew up here and we'd like to have him be part of what we were part of when we were young," Mark Dennebaum said.
This year marked the 99th year for the annual Novena that began July 17, 2023. The Novena concluded July 26, the Feast of Saint Ann.
"We never miss it, my whole family of eight sisters and brothers," Patricia DeNapoli, a parishioner of Saints Anthony and Rocco Parish in Dunmore, said. "No matter what I ask, somehow, someway, it gets answered. You have to believe. If you don't have faith there is nothing else!"
Very Rev. Richard W. Burke, C.P., rector of Saint Ann's Shrine Basilica, said the annual Novena remains popular because Saint Ann is such a powerful intercessor.
"Every week we get letters and calls and have conversations with people who had their prayers answered one way or another through the intercession of Saint Ann," Father Richard said.
With the centennial anniversary of the Solemn Novena quickly approaching, Father Richard believes its importance and relevance is just as important as when it started in 1924.
"Just think about all the major issues that we have to pray about. We can influence them through the gift of our prayers that God gives to us, we can influence the events of the world," Father Richard stated. "The end of the hostility in Ukraine is a prayer that is on everybody's mind. When they send in their petitions to put at the Altar of Saint Ann, nine out of ten of them have peace in Ukraine on those petitions."
Jacob and Matthew Metzger, twins who grew up in West Scranton, began attending the Novena at a young age.
"This is the holiest ground I could be on," Matthew said. "It is the greatest time of the year. It brings us a lot of peace and a lot of happiness to come down here."
At 20 years old, the twins, who are both pre-med students, now volunteer every year at the food stand at the Solemn Novena to Saint Ann.
"It is such an amazing place to be. Everyone is kind and loving and filled with the Holy Spirit," Jacob said. "It's a family environment here. We all love what we do. We all love helping the people and putting a smile on people's faces every day."
With the 2023 Novena just having wrapped-up, coordinators say they will not waste any time in getting ready for next year.
"We're going to get a committee going in August to begin planning what is going to happen next year. We already have some suggestions," Father Richard hinted. "It will be very special."