TOWANDA – Hundreds of people have already taken the opportunity to grow closer to Jesus this Lent at a series of Holy Hours with the Most Reverend Joseph C. Bambera, Bishop of Scranton.
If you have not had the opportunity to participate yet, there is still plenty of time!
As we approach the middle of Lent, nearly half of the 12 Holy Hours have already taken place in communities including Carbondale, Cresco, Montoursville, Towanda, Scranton and Wilkes-Barre. At least six more Lenten Holy Hours will take place before Holy Week begins.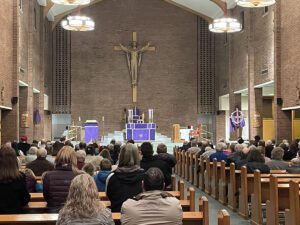 The Lenten Holy Hours are being held to commemorate the diocesan phase of the National Eucharistic Revival, which has the goal of renewing the Church and enkindling a living relationship with the Lord Jesus Christ in the Holy Eucharist.
Below is a roundup of some of the Holy Hours that have taken place so far:
CARBONDALE
The Lenten Holy Hours began in the Carbondale deanery on Thursday, Feb. 23, the day after Ash Wednesday, at Saint Rose of Lima Parish.
"This Holy Hour is a great way to start, to begin, the first step, because every journey begins with the first step," Rev. Seth Wasnock, pastor of Saint Rose of Lima and Our Lady of Mount Carmel Parishes, said.
"To have our Bishop here is just a wonderful experience," Bernadette Lepre, parishioner of Our Lady of Mount Carmel Parish, explained.
Each Holy Hour begins with Solemn Exposition of the Blessed Sacrament, followed by a period of silent, personal prayer.
"I feel that a Holy Hour is a time for me to have a one-to-one talk with the Lord, to sit and just think of what he wants me to do," Joan Scavo, parishioner of Our Lady of Mount Carmel Parish, added.
CRESCO
The faithful of the Stroudsburg deanery gathered at Most Holy Trinity Parish in Cresco on Tuesday, Feb. 28.
"Anytime the Sacrament is exposed, it is a time to be with Christ and be closer to Christ and it's especially important during Lent," Michael Ziobro, parishioner of Most Holy Trinity Parish, said. "During our Lenten journey, we're supposed to be spending more time in prayer and having more quiet time and getting ourselves together."
Many feel the time is well spent.
"It's a time of very quiet thought and prayer and this gives our community the opportunity to sit together with these solemn services and pray as we should during Lent," Midge Barron, parishioner of Most Holy Trinity Parish, added. "The silence of it brings us closer to Christ and I think that is what makes it for me."
"When the whole deanery is represented and we have multiple congregations joining as one, I think it adds a heightened sense of community to the prayer," Cheryl Lynott, parishioner of Most Holy Trinity Parish, explained. "It invigorates all of us and I think it's a special way to pay homage to the Lord."
MONTOURSVILLE
The faithful of Lycoming and Tioga counties joined together on Wednesday, March 8, at Our Lady of Lourdes Parish in Montoursville.
"To be here with the Bishop tonight is just so special to me. I've never ever been here with a Bishop," Sharon O'Malley, parishioner of Our Lady of Lourdes Parish, said.
As the faithful gazed upon the consecrated host on the altar – many said they prayed about the great mystery of God's love revealed to us in Christ.
"A Holy Hour is a great way to slow down from the pace of life, which these days seems to be crazier than ever," Keith Kuzio, parishioner of Our Lady of Lourdes Parish, added. "It is time to just be with our Lord in His peace and His love and to feel the grace that comes to us from the Eucharist and His sacrifice for us."
Rev. Michael S. McCormick, host pastor, said a Lent without Jesus is a waste of time but a Lent with Jesus is worth the world.
"It is such a glorious gift that He has given us and to know that He is with us, in Adoration, we know that He is there substantially. He's really, really present – body, blood, soul and divinity," Rev. McCormick said.
TOWANDA
As Father Kevin Miller, dean of the Sayre Deanery, welcomed the faithful to Saints Peter & Paul Parish in Towanda, he encouraged people to let Jesus' holiness penetrate their souls and minds.
"It's wonderful because you put everything else out of your mind and you just are in the moment and journeying with Christ," Karen Stroud, parishioner of Saints Peter & Paul Parish, said.
Some people who attended had never participated in a Holy Hour before.
"This was really the first Holy Hour I've attended," Patti Meredith, parishioner of Saints Peter and Paul Parish, said. "I thought the sense of community, where people came from other towns and priests were here from other towns and the Bishop was here providing a beautiful message."
The Holy Hour was also a family affair for the Tavani family, who attended together.
"I think it is always nice to spend time in front of the Blessed Sacrament. The opportunity is usually time for private, quiet, meditative prayer," Heidi Tavani said.
For Heidi's daughter, Hannah, the Holy Hour emphasized the universality of the Church.
"I think Lent is sometimes overemphasizing, 'What are you giving up?' I think sometimes the prayer aspect of Lent gets overlooked so I think having the opportunity to have a Holy Hour in front of the Blessed Sacrament, during Lent, before Easter, helps emphasize the importance of prayer, leading up to Easter," she said.