DALTON – Teddy Novak, a senior at Holy Cross High School, first experienced the International Student Leadership Institute (ISLI) as a freshman right before the COVID-19 pandemic hit in February 2020.
He had such a good time he knew he wanted to go back. He was thrilled that ISLI was able to make its triumphant return after a three-year hiatus last month.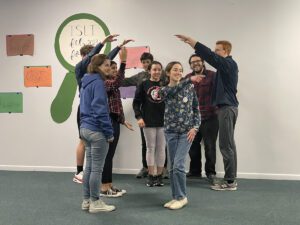 "I had to come back and re-experience it," he said.
ISLI is a peer-facilitated, faith-based leadership retreat designed by Fr. Thomas Chambers, C.S.C., at the University of Notre Dame. The retreat is designed to help high school students gain the knowledge and skills necessary to excel in both the leadership and membership roles of task-oriented groups.
"We break up into small groups and form circles and have reflective conversations," Novak explained. "We reflect on who we are right now, who we have been and who we want to be."
Annie Reilly, a parishioner of Saint Paul Parish in Scranton and freshman at Scranton Preparatory School, attended ISLI for the first time this winter.
"We did a lot of group projects," she said. "We had a lot of tasks around five main ideas that included support, awareness, self-confidence, positive thinking and values."
Reilly said the weekend retreat helped her grow in her leadership abilities.
"I came in personally knowing absolutely no one so they really helped me make friendships and meet new people," she said. "I watched my facilitators and how they led our group. I feel like I've grown as a person and definitely as a leader too."
During the weekend, the students participate in activities that help them learn about positive communication, develop self-motivational skills, learn problem solving, and examine different leadership styles.
The students also celebrate Mass together and participate in Adoration.
"I'm planning on coming again in the summer and coming back next year," Reilly added. "I've already recommended it to multiple friends to come with me during the summer so I definitely recommend it for other people."
The next ISLI retreat is scheduled to take place from June 20-23 at Marywood University in Lackawanna County.