ROARING BROOK TWP.– Saint Eulalia Parish and Saint Francis of Assisi Kitchen are joining forces to make sure no one in the North Pocono area goes hungry.
Starting Feb. 7, 2023, a free community meal is now being hosted in the parish hall of the Roaring Brook Township parish every Tuesday from noon until 12:30 p.m.
The warm, nutritious meal is prepared by Saint Francis Kitchen in Scranton and served by parish volunteers. Each week the meal includes meat, vegetables, fruit salad, garden salad, lemonade and dessert.
"It's local people serving local people. The kitchen provides the food, the van and the driver and a lot of the material things," Rob Williams, Executive Director of Saint Francis of Assisi Kitchen, explained. "We send one person from Scranton but they provide 10-12 local volunteers to serve the meal. All of the hospitality and all the meal service happens with local people serving local people."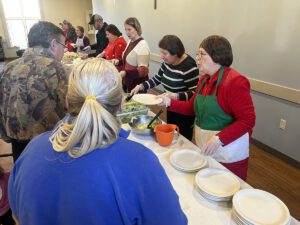 More than sixty volunteers from the parish have stepped forward to help.
"I have been very blessed in my life. Right now is my time to give back," Donna Caputo, a volunteer from Saint Eulalia Parish, said. "We don't realize that there are people in our own community who need help and I never really saw that until now."
The idea for the partnership started when Saint Eulalia parishioners realized that the nearby North Pocono food bank served more than 200 local families a month and nearly 30 percent of students in the public school system receive free or reduced lunches.
"There was just a desire to serve and give," Rev. David Cramer, Pastor of Saint Eulalia Parish, explained.
Dozens of people have taken advantage of the free meal each Tuesday since the effort launched. Some people come out to help them stretch their food budget while others just enjoy the hospitality and camaraderie.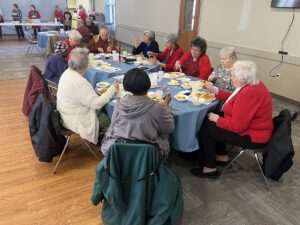 "I think it's wonderful. It is very kind of the parish to put this on for the people," Cathy Manley said. "They can't do enough for you. It is unbelievable. You walk in the door and they greet you. They can't help you enough."
"The meals are so great. They are full servings of chicken parmesan. I have never eaten so well," Katie Babilon added. "The volunteers are really friendly. They really help out. They fill your plate."
Saint Eulalia Parish is the newest stop for the Saint Francis of Assisi Kitchen Community Outreach Program. On Wednesdays, the Kitchen provides 130 meals to Holy Cross Parish in Olyphant and on Thursdays, it provides 170 servings to Saint Rose of Lima Parish and the nearby high rises in Carbondale.
"I love these collaborations with the parishes because it helps us to extend our reach and multiply the impact that we can have," Williams said.
Saint Eulalia Parish is located at 214 Blue Shutters Road in Roaring Brook Township. If the North Pocono School District cancels or delays classes on any given Tuesday, there will be no meal served.