SCRANTON – The faithful of Mary, Mother of God Parish are showing love and compassion to men and women in the Scranton area who are experiencing homelessness.
During the six weeks of Lent – starting on Ash Wednesday and ending on Palm Sunday – parishioners filled two tents with umbrellas, backpacks, tarps, more tents, plastic cutlery and disposable coffee cups.
Organizers started what they called a "Fill the Tent" campaign and could not be happier with the results.
"For Lent, we wanted to do a special project to help those in need. We have worked with Keystone Mission in the past providing meals. We've done underwear and boxer drives for them," Jennifer Pitts, a member of the church's Community and Service Committee, said. "We had a great idea about getting tents and filling them with items that homeless people need right now."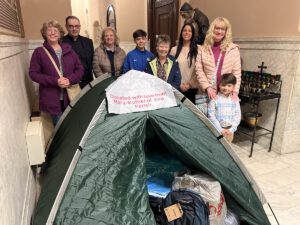 To help raising awareness about the collection – and the issue of homelessness in general – the parish put two green tents in the entranceway of the Holy Rosary Church building.
"Whatever we ask for here, people are very generous," Donna Zupp, Community and Service Committee member, added. "They are just wonderful and people love to give, especially at this time of year."
Ruth Ann Jones, who has grown up attending the parish, says many people know the important work that Keystone Mission does and they feel the items collected will be given out to those most in need.
"There are many nights it could be pouring rain and you just think of all those people that are out there that don't have a roof over their head and count on a tent or a sleeping bag, anything you can give them, to make their lives just a little more comfortable," Jones explained.
Similar to the work done by Catholic Social Services, Keystone Mission helps provide individuals experiencing homelessness with food and shelter during the daytime hours.
"One of the other things they asked for were bus passes, which is really a great idea, so we've had a large donation of those also," Zupp said.
This Lent, Mary, Mother of God Parish has focused its work around the theme of being "ambassadors of Christ," and members of the church's Community and Service Committee feel the collection for the area's homeless fit in perfectly with that.
"We're all disciples of Jesus and we're doing His work and we're doing a great job here in North Scranton," Pitts said.
"Our parish is wonderful. We've always had such a giving parish and not that we have a parish that comes from a lot of money but they do give from their heart and they give whatever they can, which is quite a bit," Jones added.