SCRANTON – They serve as volunteer faith formation teachers, assist at Mass as lectors and altar servers, and provide food to the hungry and less fortunate in their communities among many other things.
Nearly 600 young adults from parishes and Catholic schools across the Diocese of Scranton are being recognized this month with the 2023 Bishop's Youth Award.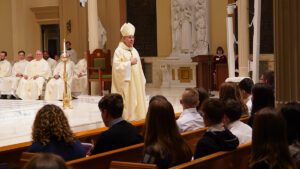 Nominated by their pastor, parish life coordinator, youth minister, director of religious education or principal, the award honors those students in eighth and 12th grade who show exemplary practice of faith and/or commitment to service.
"I feel honored. I'm proud to get it," Gabrielle Gottlieb, a high school senior from Saints Peter & Paul Parish in Plains, said.
Gottlieb is a volunteer faith formation teacher for kindergarten students and volunteers to help Treasures, the clothing boutique at her parish, as often as possible.
"I just love helping out in the community," she explained. "I want to be a teacher when I graduate so I am getting used to that. I just love teaching little ones."
All of the Bishop's Youth Award recipients were invited to special Masses on Tuesday, March 7, and Wednesday, March 15, at the Cathedral of Saint Peter in Scranton. The March 15 Mass needed to be rescheduled to Tuesday, March 21, because of snow-related closures.
"There are few Masses that take place in this Cathedral throughout the entire year that have this many people," the Most Rev. Joseph C. Bambera, Bishop of Scranton, said in welcoming the students during the first Mass. "It is a testimony to all of you."
The honorees and their proud families filled the Cathedral during both Masses.
"I'm really excited. My entire life I have been a part of my parish and it has been a big part of me, so being able to get this award means a lot to me," Sofia Marica, an eighth grader from Epiphany Parish in Sayre, said. "I'm a lector. I help with our parish's free meals. I help out with children's programs where we do activities directed towards our Lord."
"For my senior project, I'm helping out at Sojourner Truth which is a place for those experiencing homelessness. At church, I volunteer at dinners and help wherever I can. I'm involved in Key Club which is doing a food drive," Lily Reid, a senior at Saint John Neumann Regional Academy in Williamsport, explained. "I love helping people. I want to major in psychology and hopefully continue helping people."
Abigayle Cryan, a senior at Holy Redeemer High School in Wilkes-Barre, served as a cantor for the first Bishop's Youth Awards Mass. She is heavily involved in her parish's music program, but is also involved in her school's Student Leadership Council that helps beautify the school and visits local soup kitchens.
"I first joined my church choir in first grade so I've been able to build up my confidence. I started as a cantor from seventh grade on in church," she said.
Melanie Rdesinski, a high school senior, has been an altar server since seventh grade and participates in the Christmas choir at Saint Luke Parish in Jersey Shore.
"I'm a little proud, in an offset sort of way," she said humbly. "I didn't know about it until two weeks ago when my pastor said something."
When asked what he gets out of performing community service projects, Conor Buckley, a parishioner of Our Lady Help of Christians Parish in Dorrance, answered easily.
"It is important to see the happiness in other people. Making people feel good makes me feel good," he explained.
As he ended each Mass, Bishop Bambera thanked the recipients and encouraged them to continue making a difference in the world.
"Thank you for living your faith. Thank you for being a witness to what you believe. Thank you, at times, for taking a stand on issues that might not necessarily resonate with the rest of your classmates or the world. Thank you for serving individuals who are struggling and on the margins of our world, the poor or individuals, who for one reason or another are shut out of peoples' lives," Bishop Bambera said.
The Bishop's Youth Awards have been given out annually since 1996.