HAZLETON (Jan. 30, 2023) – After serving the Annunciation Parish community in Hazleton for nearly 14 years, the Oblates of St. Joseph have announced their intention to return the administration of the parish back to the Diocese of Scranton on June 30, 2023.
The announcement was shared with parishioners of Annunciation Parish during all Masses on the weekend of Jan. 28 & 29, 2023, in a letter from Fr. Matthew Spencer, O.S.J., Provincial, Oblates of St. Joseph (Holy Spouses Province).
"It is never easy for us as Oblates to make such a significant decision. When we agree to work at a parish, we do so knowing that we will invariably form friendships with the faithful and become part of the parish family itself," Fr. Spencer wrote in his letter. "I wish we had more vocations and more active priests to assign, in order to maintain all of our ministries in our Province, but instead we find ourselves having to accept what Divine Providence allows us to do with the limited personnel we have."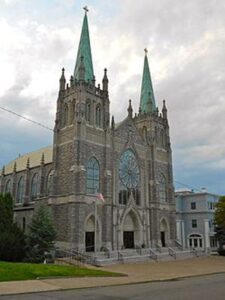 There are currently two Oblate priests – Fr. Mariusz Beczek and Fr. Victor Leon – serving Annunciation Parish. After the transition on June 30, they will assume Oblate assignments elsewhere.
In a separate letter accompanying the Oblates announcement, the Most Rev. Joseph C. Bambera, Bishop of Scranton, thanked the Oblates for the leadership of the Annunciation Parish community over the last 14 years. Bishop Bambera said the Oblates announcement means a new pastor will be named for Annunciation Parish this summer.
"Be assured that parish life and all the ministries of your parish serving both the Anglo and Hispanic communities will continue," Bishop Bambera explained. "The Diocese will follow its normal protocol for pastoral vacancies to find and announce a new pastor of Annunciation Parish once the standard discernment process takes place."
While the Oblates will be leaving Annunciation Parish in Hazleton, their service to the Diocese of Scranton will continue and be centered at their religious house in Pittston. The change will allow the Oblates to better live out a unique element of their vocation – which involves living together in a community (of at least three confreres) in order to support each other, challenge each other and give witness to the gospel by their way of life.
"The world needs good examples of families in our day, and our commitment as Oblates today is not only to preach this from the pulpit, but above all to witness to this in our daily life as Oblates in community," Fr. Spencer added.
In ending his letter to the faithful of Annunciation Parish, Bishop Bambera said change is never easy but pointed to the words of Saint Joseph Marello, founder of the Congregation of the Oblates of St. Joseph, as a reason for hope. He said, "He who is worried and full of anxiety in his work does an offense to God and does not say the Our Father from the heart. Let us accept purely and simply whatever God sends us, without being concerned or sad."
Read Fr. Spencer's Letter to the Parishioners of Annunciation Parish (English) 
Read Fr. Spencer's Letter to the Parishioners of Annunciation Parish (Spanish) 
Read Bishop Bambera's Letter to the Parishioners of Annunciation Parish (English)
Read Bishop Bambera's Letter to the Parishioners of Annunciation Parish (Spanish)