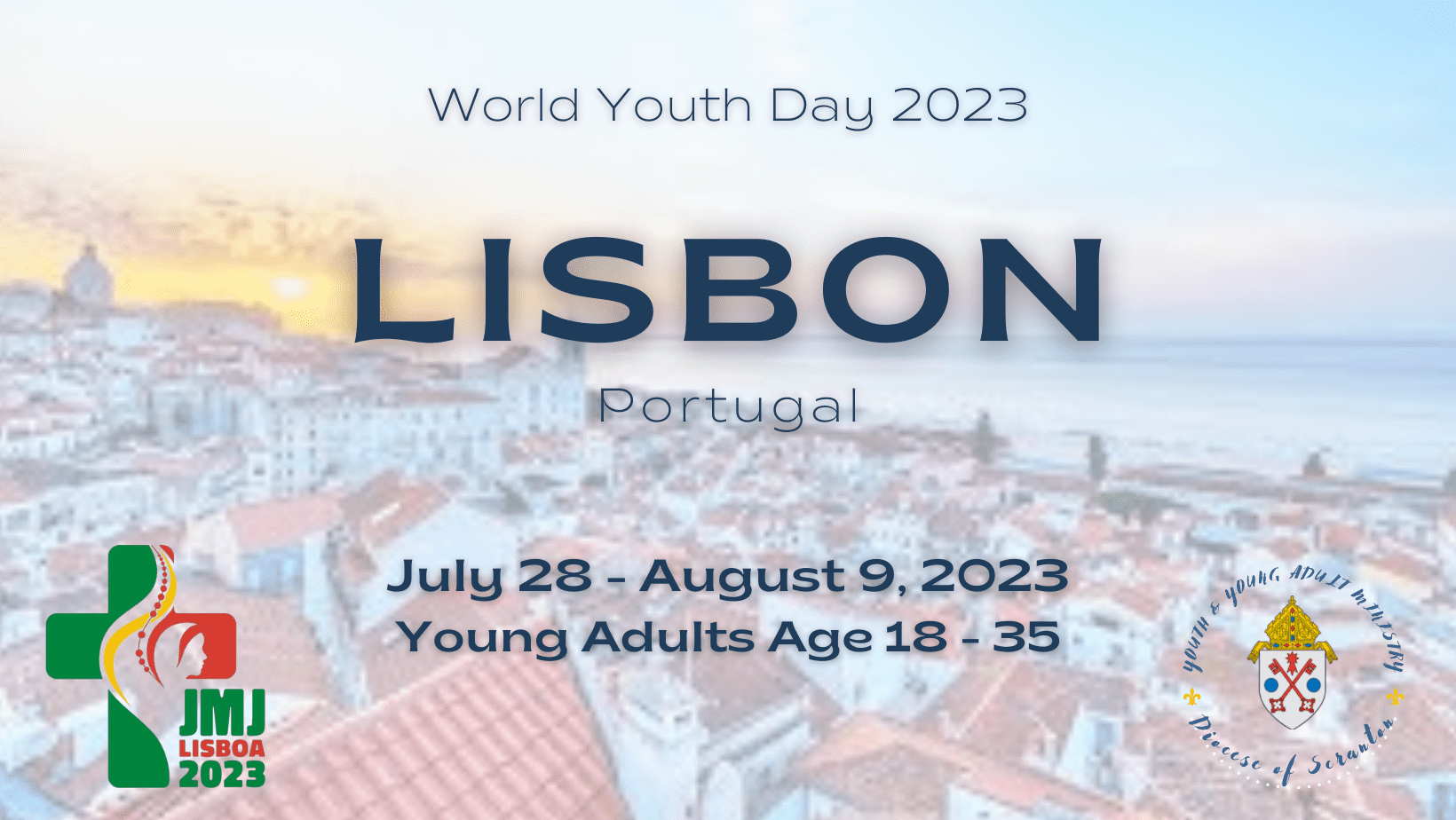 Calling all young adults!
The Diocese of Scranton is planning a pilgrimage to World Youth Day 2023 in Lisbon, Portugal. Young Adults ages 18-35 are invited to journey with us for this gathering with hundreds of thousands of young people from all over the world with the Pope. WYD is also a pilgrimage, a celebration of youth, an expression of the universal Church and an intense moment of evangelization for the youth world.
Proposed Itinerary
July 28 – Depart for overnight flight to Europe.
July 29 – Arrive in Lisbon. Possible mass at Santarem, the location of Eucharistic Miracle. Activities in Fatima.
July 30 – Day in Fatima. We will walk the Stations of the Cross to Aljustrel, the village of the 3 children of Fatima, visit the Chapel of the    Apparitions, and participate in a candlelight procession.
July 31 – Travel to Lisbon. City tour of Lisbon with a free evening.
August 1 – Walking tour of old city Lisbon, visit to the Church of St. Anthony. Opening WYD Mass.
August 2 – August 4 – WYD events. Official welcome of Pope Francis to Lisbon. Stations of the Cross.
August 5 – WYD Vigil & Overnight
August 6 – Closing Mass w/ Pope Francis.
August 7 – Travel to Barcelona. Panoramic tour of the city. Mass at La Sagrada Familia Church.
August 8 – Morning tour to Montserrat Monastery. Afternoon free. Farewell dinner.
August 9 – Depart to US
The Diocese of Scranton delegation will be traveling once again with Dube Travel. Our trip package includes flights, ground transportation, most meals, WYD events in Lisbon, a day in Fatima and a visit to the Chapel of the Apparitions, 2 days in Barcelona, and a tour of Montserrat Monastery. Shorter trip packages are also available.
There are a limited number of partial scholarships available. If you are interested in attending World Youth Day and would like to apply for a scholarship, contact Shannon at skowalski@dioceseofscranton.org
Click here to view our registration information.
For more information, contact Shannon Kowalski at skowalski@dioceseofscranton.org or (570)207-2213
Shannon Kowalski
Diocese of Scranton – Office for Parish Life
Director for Service and Mission
330 Wyoming Avenue
Scranton, PA   18503
Office:  (570)207-2213  x1155
Fax:  (570)207-2204
"Taking care of young people is not an optional task for the Church, but an integral part of her vocation and mission in history."
Synod on Young People, the Faith, and Vocational Discernment, Instrumentum Laboris 2018, #1.