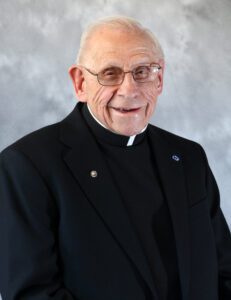 NANTICOKE — Most Rev. Joseph C. Bambera, Bishop of Scranton, served as principal celebrant of a Pontifical Concelebrated Mass of Christian Burial for Father Joseph M. Horanzy on Oct. 7 at Saint Faustina Kowalska Parish in Nanticoke.
Father Horanzy, pastor emeritus of the former Saint Stanislaus Parish, Wilkes-Barre, died Oct. 2 at Saint Mary's Villa Nursing Home in Elmhurst at the age of 90.
Born in Nanticoke on March 6, 1932, son of the late Michael and Stella Saulinski Horanzy, Father Horanzy graduated from Nanticoke High School before enrolling at King's College in Wilkes-Barre.
A graduate of Saint Mary's Seminary at Orchard Lake, Mich., he completed his preparatory studies and priestly formation at Saints Cyril and Methodius Seminary, Orchard Lake, and was ordained to the priesthood for the Scranton Diocese on Feb. 21, 1959, at Saint Joseph Cathedral in Buffalo, N.Y., by Most Rev. Joseph A. Burke, late Bishop of Buffalo.
Following ordination, Father Horanzy was assigned as parochial vicar at Saint Leo Parish, Ashley, where he served until being appointed parochial vicar at Sacred Heart of Jesus Parish, Peckville, in February 1966. He subsequently was named parochial vicar at Saints Peter and Paul in Plains in January 1975.
A year later, Father Horanzy received his first pastoral appointment, at the parishes of Saint Francis, Friendsville, and Saint Thomas, Little Meadows, serving until 1977, when he was assigned the pastorate of Saints Peter and Paul, Avoca.
In 1982, Father was named pastor of Saint Casimir in Dunmore, where he ministered to the parish faithful for ten years. He received his final parochial assignment in 1992, as pastor of Saint Stanislaus Parish, Wilkes-Barre, serving for 15 years until his appointment as pastor emeritus and retirement from active ministry on July 10, 2007.
"Anyone who knew Father Horanzy knows that he was never shy about telling you what he thought," Father Bob Simon began to open the homily at the funeral Mass for his longtime dear friend, after which he indicated that a few months earlier, Father Horanzy reminded the younger priest that he would soon preach at his funeral.
"He suggested I should speak just a few simple words from my heart. He then proceeded to tell me what I should say," Father Simon continued. "Just tell everyone that I was ready to go home to the Lord. Tell everyone that I have always, throughout my life, placed myself in God's hands. Tell everyone I was at peace with dying and have trust in God's goodness and mercy."
The homilist shared that Father Horanzy's "sole goal to be a good priest" had been achieved. "I thanked him for the gift of his priesthood and assured him that I and so many others found in him a good, faithful and holy priest."
Father Simon then told of how two years after his own ordination, Father Horanzy was assigned to his home parish of Saint Stanislaus in Wilkes-Barre, admitting that as his family soon came to know and love the seasoned pastor, he "got a little jealous."
"When I asked my Mom when I should come to bless our home, she told me, 'Father Horanzy will take care of it.'"
"Father Joe found simple ways to make connections and develop relationships with parishioners," Father Simon noted. "His infectious laughter, his love of tradition, his reverence at Mass and his love of life led the people of (Saint Catherine of Siena Parish) Moscow, where he would gladly cover for me after his retirement, to call him 'the priest we love.'"
Stating that Father Horanzy had the "heart of a pastor of souls," the homilist went on to say, "He has always been the kind of priest Pope Francis calls us to be — a priest who gets his shoes dirty and is comfortable being close to his sheep."
"This beautiful priestly heart beat for more than 63 years with love and zeal. May Christ, gentle and humble of heart, welcome him to the Father's house and grant rest to his soul," Father Simon concluded.
Surviving are two nephews, David Horanzy and his children; Eugene Horanzy and wife, Lisa; a niece, Kathy Ann Wilkes and husband, Rick; cousins; and dear friends, Gerald and Margaret McGinnis.
He was also preceded in death two brothers, Michael and Eugene Sr.; and sister-in-law, Regina.
Interment was held at Saint Stanislaus Cemetery in Nanticoke.