DORRANCE – Parishioners of Saint Mary, Our Lady Help of Christians Parish in Dorrance gathered on Saturday, Sept. 23, 2023, to celebrate the 100th anniversary of their church.
The Most Rev. Joseph C. Bambera, Bishop of Scranton, was the principal celebrant and homilist for the centennial celebration.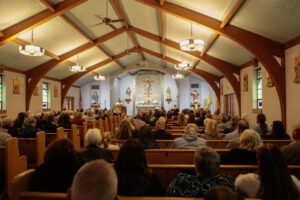 "As we gather to celebrate the Eucharist, the power and presence of God that is the heart of our faith, may our prayer be one of gratitude and hope: gratitude for all that has been and hope for what will be through the grace and goodness of God," Bishop Bambera said during his homily.
In celebration of its 100 years, The Catholic Light is looking back on the history of the parish.
Due to the growing number of Roman Catholic residents settling in and around the Dorrance area in the early 1920s, the Diocese of Scranton determined there was a need for a church to administer to the spiritual needs of the faithful. Prior to that time, residents traveled to Wilkes-Barre, Sugar Notch, Nanticoke, or Hazleton to practice their faith.
The original church was built on one acre of land donated by Andrew Kotulik. Later, he also donated the area that houses the picnic grounds.
The original church took just over one year to build and was dedicated on Sept. 27, 1925. At the time of its founding, Saint Mary's was a mission church of Maternity of the Blessed Virgin Mary Parish in Wilkes-Barre.
On Dec. 5, 1952, the original church was destroyed by fire. A faulty furnace was blamed for the destruction. After the fire, Sunday Mass was celebrated in the dining room of the Rustic Tavern until a new church could be built.
After a groundbreaking on April 26, 1953, the dedication of the new church was held on Feb. 14, 1954. The dedication and Mass were presided over by the Most Rev. Henry T. Klonowski, Auxiliary Bishop of Scranton.
Saint Mary, Our Lady Help of Christians Parish was linked with Saint Jude Parish in Mountain Top on July 7, 2010. Father Joseph Evanko has been serving as pastor since that time and has been assisted by several different assistant pastors.
In addition to its centennial celebration, which was marked on Sept. 23, 2023, the parish had previously celebrated its milestone anniversaries of 75 years on July 25, 1998; 50 years on June 10, 1973; and 25 years on Nov. 14, 1948.