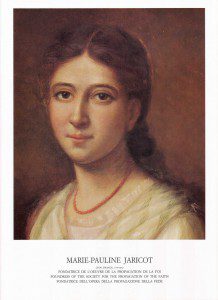 Society for the Propagation of Faith:
Founded in 1822 by Pauline Jaricot, a 19-year-old woman, in Lyons, France.  Pauline gathered together other young women, all of whom worked in the factories of France.  They would pray for the missions and missionaries.  Their motto became "a soul a week", or the equivalent of a penny.  These funds were to be sent to the missionaries for their needs and support.  Their first appreciable collection came to some $4,000 which was divided three ways, a third each to China, Louisiana, and Kentucky.  Since 1928 it has been set up progressively in mission countries, and at present exists in 85 countries.
Pontifical status was granted to the Society on May 3, 1922, and its central administration was transferred to Rome.  It thus became the Church's official organization for mission aid.  The Propagation of the Faith raises funds to help the 1,100 dioceses throughout the world which are not able to be self-supporting.  It also challenges young people to go to these dioceses as lay missionaries, sisters, priests, and brothers.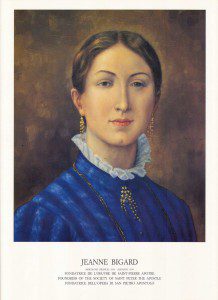 Society of Saint Peter the Apostle:
Founded by Jeanne Bigard and her mother, Stephanie in France.  It is based on awareness of the worldwide need of priests and religious, and the particular need of the poorer dioceses to be able to support their own people in pursuing these vocations.  Every year, in many parts of Asia and Africa, bishops are forced to deny too many young men admission to seminaries because they cannot afford to train and support them.  Although originally founded for the support of priests and seminarians, this society was later expanded to include religious Brothers and Sisters and lay catechists in the mission areas.  It enables people to be trained for and supported in assuming positions within the Church and often within the wider community of their own countries.  This society was also given Pontifical status.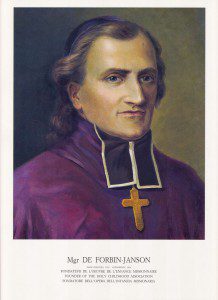 Missionary Childhood Association:
Founded in 1843 by Bishop Charles De Forbin-Jansen of Nancy, France.  It is an organization of "children helping children".  This quickly spread throughout France to other European countries and to America.  Recently it has been set up also in several mission countries and is today organized in over 70 countries.  It was given Pontifical status on May 3, 1922.  This society aims to awaken in children an awareness of the needs of other children throughout the world.  Children are brought to an appreciation of their gift of faith and are encouraged to pray and offer financial help for children in the developing world.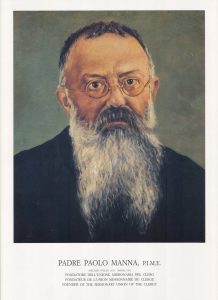 The Pontifical Missionary Union:
Founded in Italy in 1916 by Father Paolo Manna, receiving papal approval from its very beginning and is now organized in more than 50 countries.  Originally founded as an association of priests, its scope was enlarged on July 14, 1949, to include religious men and women and all those engaged in the pastoral ministry of the Church.  This society further promotes missionary formation and an understanding of missionary responsibility, especially among priests, religious, and those in consecrated life.