World Mission Sunday:
Our office has always made World Mission Sunday a special celebration within the diocese. In preparation for WMS, we provide mission awareness materials from our national office to all diocesan parishes to help them in their celebration. A televised Pontifical Mass is also celebrated at the Cathedral, with the Bishop as principal celebrant. Guest missionaries who participate in the missionary co-op program are invited. Catechists, teachers, and students from the parishes and Catholic schools are also invited and receive certificates for their mission spirit throughout the year.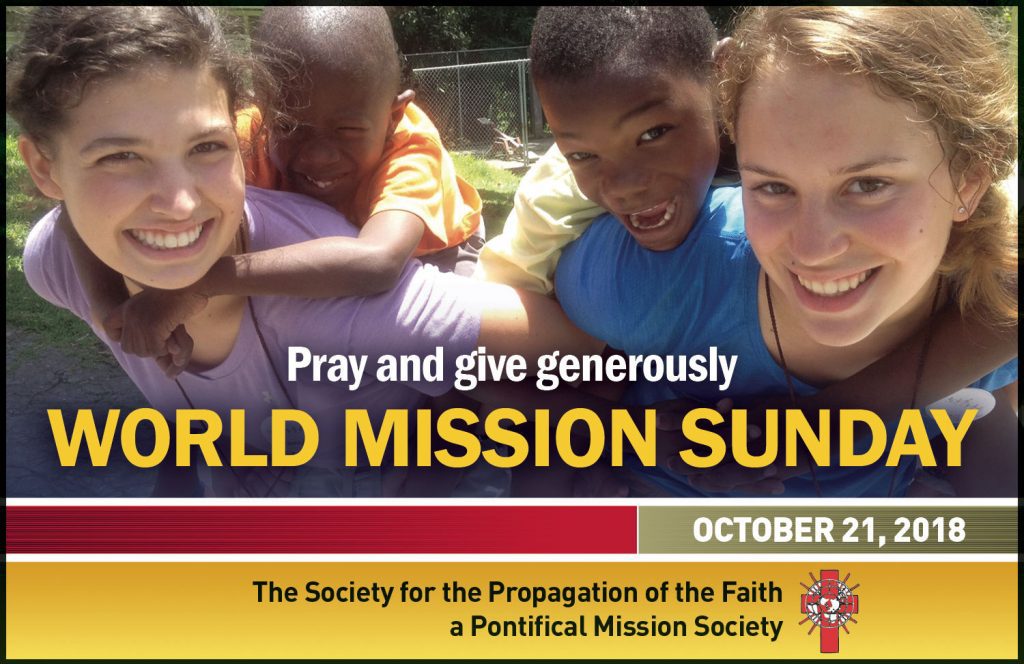 Parish Visits:
The Diocesan Director annually seeks to visit parishes on a rotation basis. This helps to:
Increase missionary awareness in the local Churches
Promote membership in the Propagation of the Faith
Open doors for mission education and other parish organizations
Provide an opportunity for follow-up visits to Parish CCD and Youth Ministry programs
Missionary Cooperation Plan:
Our diocesan regulations allow for missionaries to be assigned to visit every parish with the exception of those visited by the Diocesan Director. Each missionary is assigned a number of parishes by the Bishop parishes. The MCP are made between January and August.
This Outreach:
Provides an opportunity for all parishes to learn about the lives of missionaries who serve God's people all over the world, and also pray for and support them in their efforts.
Increases mission awareness in the hearts and minds of the faithful, encouraging them to see others who live in desperate circumstances as their brothers and sisters in Christ, and need their prayers and financial support through the mission programs.
Schools and Parishes:
The Propagation of the Faith and MCA programs keep our youth and children aware of the responsibility they have through Baptism and Confirmation to reach out and share their love and faith with their brothers and sisters around the world.
The Diocesan Director visits all Catholic high schools and elementary schools each year for Mass and a time of education.
Elementary students from kindergarten through 8th grade are involved in the MCA (link to a3 above) education programs and are visited each year by the Diocesan Director.
Days/Evenings of Reflection and Education:
Our office is available to conduct times of reflection for parish DRE's, catechists, and leaders of parish ministries.  The evenings would consist of presentations on how mission relates to all aspects of religious education and parish life, and celebration of Mass or the Liturgy of the Hours.   If you would like to make arrangements for a time of reflection and education in your parish, send us an e-mail (from email link to ⦁ Rev-Brian-JT-Clarke@dioceseofscranton.org) or call our office at 207-2259.