PHILADELPHIA (OSV News) – A Catholic pro-life activist has been found not guilty of charges that he violated a federal law protecting access to abortion clinics, thereby avoiding a possible 11-year prison sentence.
Mark Houck, known for his sidewalk counseling outside a Philadelphia abortion facility, was tried in U.S. District Court for the Eastern District of Pennsylvania on two charges under the federal Freedom of Access to Clinic Entrances Act, or FACE Act, for allegedly assaulting an abortion clinic volunteer in October 2021.
The 1994 law prohibits intentional property damage of a facility that provides "reproductive health services," including those related to abortion, and prohibits using "force or threat of force or … physical obstruction" to "injure, intimidate or interfere with" someone entering an abortion clinic.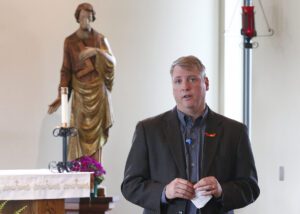 Charges against Houck stemmed from two separate incidents Oct. 13, 2021, where Houck allegedly assaulted the victim — identified in the indictment as "B.L." and named in trial proceedings as Bruce Love — who was acting as a volunteer escort at the reproductive health care clinic. Houck maintained he was instead defending his young son from harassment by Love.

Jurors in the trial, which began on Jan. 24, remained deadlocked on a verdict as of Jan. 27. By midafternoon on Jan. 30, however, they had reached a verdict resulting in Houck's acquittal.
"We are, of course, thrilled with the outcome," stated Peter Breen, executive vice president and head of litigation at the Chicago-based Thomas More Society, which represented Houck in the proceedings. "Mark and his family are now free of the cloud that the Biden administration threw upon them. We took on the Goliath — the full might of the United States government — and won. The jury saw through and rejected the prosecution's discriminatory case, which was harassment from day one. The Biden Department of Justice's intimidation against pro-life people and people of faith has been put in its place."
Ashley Garecht, vice chair of the Pro-Life Union of Greater Philadelphia, told OSV News she and fellow pro-life advocates were "overjoyed" Houck has been acquitted.

"We are grateful that truth won out in Philadelphia," she said. "Most of all, we just praise God for his protection and provision for Mark. We know so many people have been praying for him, and that courtroom was full of many rosaries."