Monsignor Thomas Muldowney, Vicar General and Moderator of the Curia for the Diocese of Scranton, joined others from Pennsylvania and New Jersey in meeting with Pope Francis last week during the Region III ad limina visits to the Vatican.
(CNS photo/Vatican Media)
Friday November 29, 2019
Vatican Media has released images from the meeting between Pope Francis and the U.S. Bishops from Pennsylvania and New Jersey that took place Thursday morning as part of the Region III Ad Limina Pilgrimage. Bishop Bambera was a member of the audience to report on the status of the Diocese of Scranton.
(CNS photos/Vatican Media)
Bishop Bambera has the latest on his ad limina pilgrimage following Mass Friday morning.
Wednesday, November 27, 2019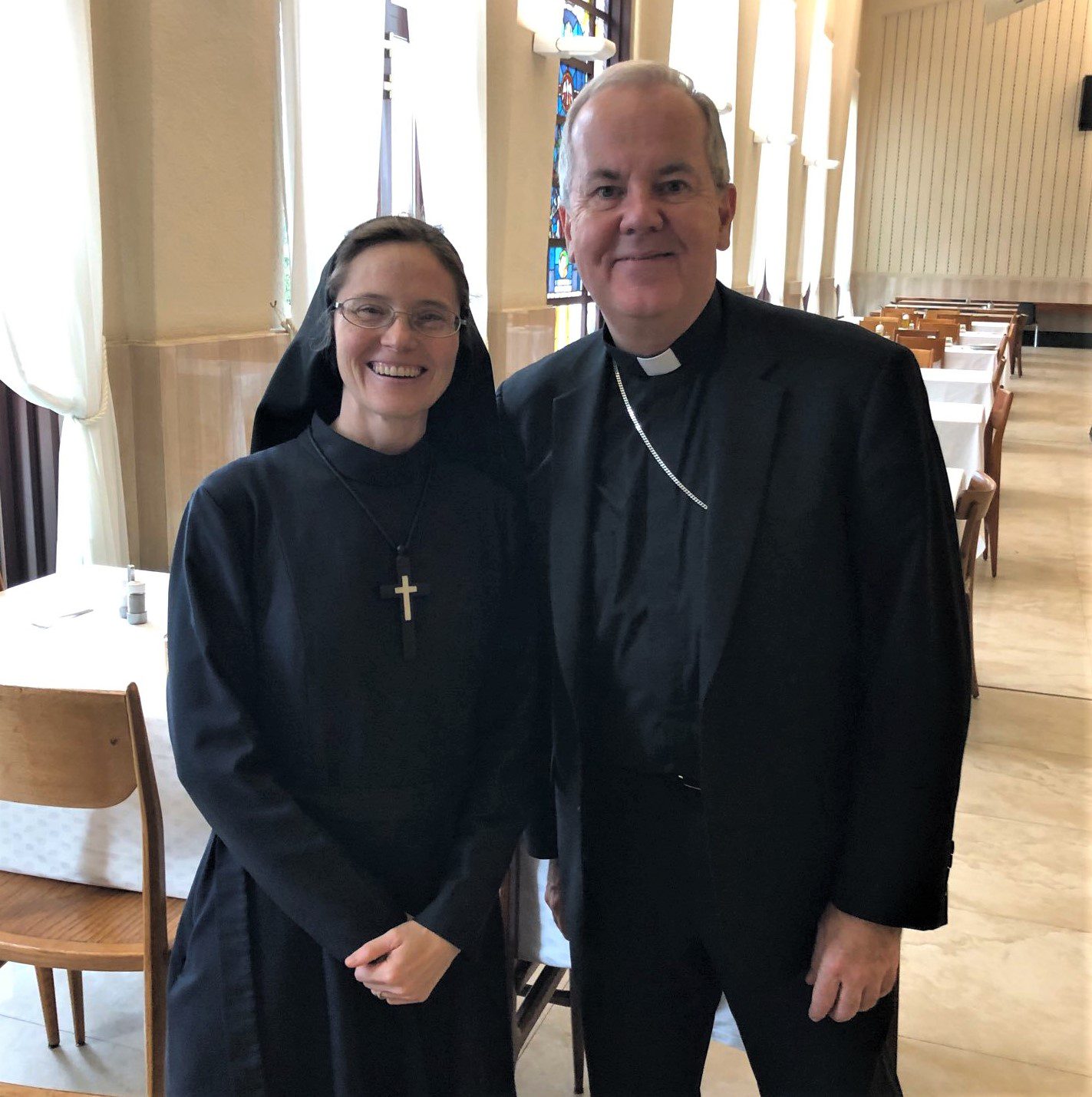 Tuesday November 26, 2019
Bishop Bambera and all of the other bishops from Pennsylvania and New Jersey celebrated Mass on November 26 at the Basilica of Saint John Lateran. The Basilica of Saint John Lateran was built under Pope Melchiade (311-314). Due to the fact that the Pope is also the Bishop of Rome, Saint John in Lateran — being seat of the bishop's residence — is also Rome's Cathedral.
The Bishops also had meetings today with the Congregation for Bishops and the Congregation for the Doctrine of the Faith as part of their continuing "ad limina" visit.
(Photos Courtesy of Anne-Marie Welsh)
Bishop Bambera provides an update on Tuesday, November 26, regarding his agenda for the day during his ad limina pilgrimage.
Monday November 25, 2019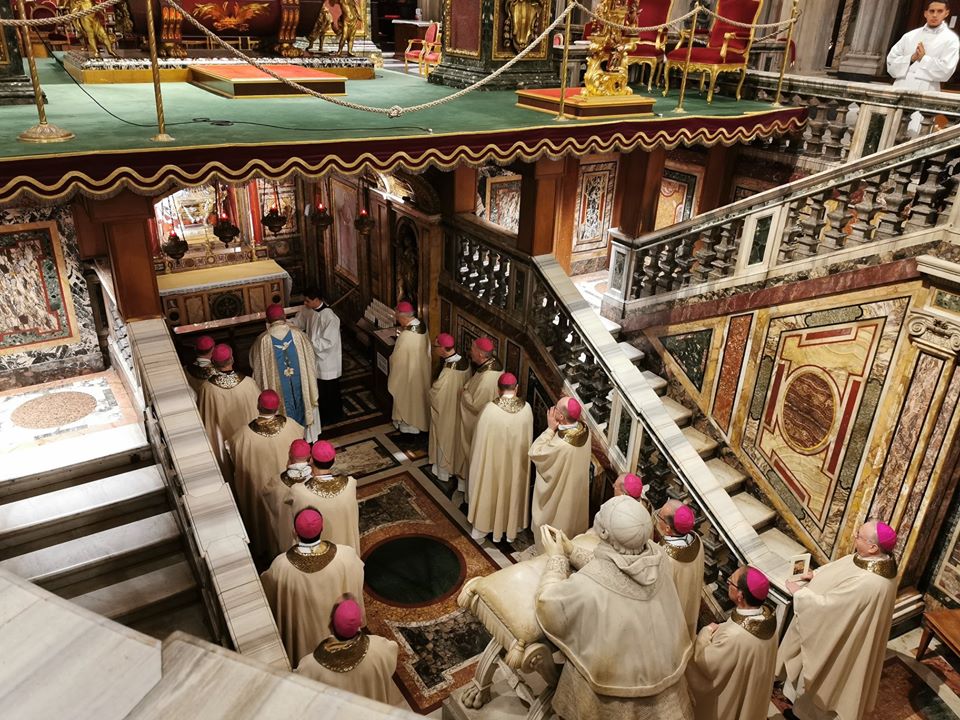 The bishops from Pennsylvania and New Jersey, including Bishop Bambera, concelebrated Mass at the Basilica of St. Mary Major in Rome on Monday, November 25.  The bishops are making their "ad limina" visits to the Vatican to report on the status of their dioceses to Pope Francis and Vatican officials. Bishop David A. Zubik of Pittsburgh was the principal celebrant.
(Catholic News Service photos/Junno Arocho Esteves)
Sunday November 24, 2019
What is the ad limina pilgrimage that Bishop Bambera is currently on? He joins us from Rome with the answer….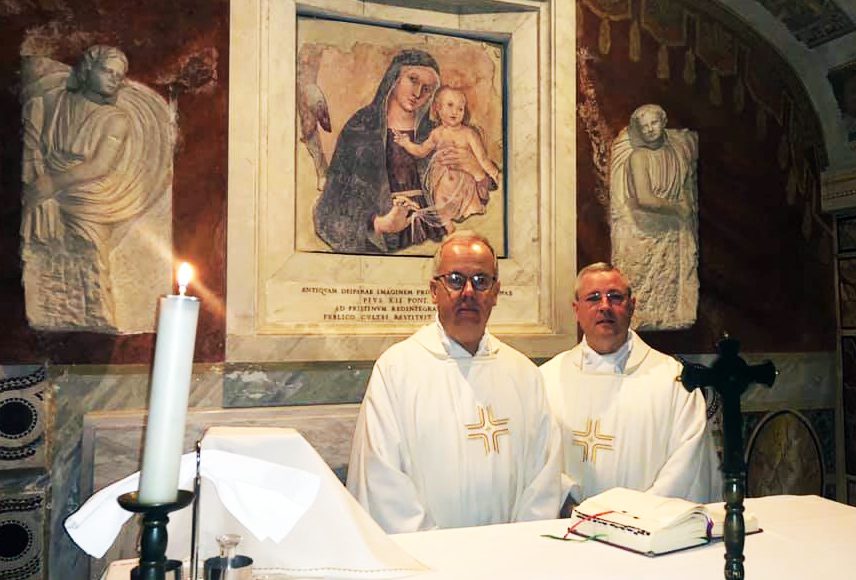 Bishop Joseph Bambera and Monsignor Thomas Muldowney, Vicar General of the Diocese of Scranton, have arrived in Rome for their "ad limina" visit. During the next week, the Bishop will have meetings with various Roman Curia members, participate in multiple Masses and he will speak with Our Holy Father Pope Francis on Thanksgiving morning.
Bishop Bambera plans to share many of his experiences with you via social media — and rest assured that he has brought the prayers of the faithful of our Diocese with him!
May the Lord bless our local Shepherds as they begin their journey! We will bring you much more throughout the week.