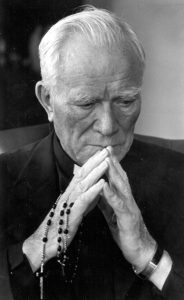 VATICAN CITY – Pope Francis recently advanced the sainthood cause of Holy Cross Father Patrick Peyton, thus declaring "venerable" the famous Catholic media pioneer known the world over as "The Rosary Priest" whose journey in America as a young Irish immigrant began in Scranton.
During a papal audience in December with Cardinal Angelo Amato, prefect of the Congregation for Saints' Causes, the pope approved the decree recognizing the heroic virtues of Father Peyton along with those of Saint John Paul II's mentor, Cardinal Stefan Wyszynski.
Father Peyton's media ministry in the 1940s included radio and later television to produce popular programs featuring Hollywood stars and other celebrities to promote family prayer.
His ministry produced more than 600 radio and television programs and 10,000 broadcasts. The priest also conducted Rosary crusades for millions of people in dozens of countries. He had two especially famous mottos: "The family that prays together stays together" and "A world at prayer is a world at peace."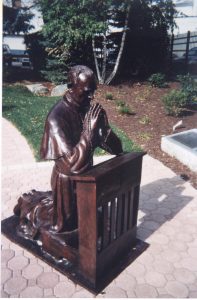 Young Patrick soon landed the job of sexton at the Cathedral of Saint Peter in Scranton. He and his brother eventually joined the seminary and would be ordained as priests for the Congregation of Holy Cross.
However, during his third year of theological studies, Pat was stricken with tuberculosis and sent to the Community Infirmary at the University of Notre Dame. As the seminarian's health continued to deteriorate and his condition worsened, an elder priest advisor encouraged him to trust in the power of the Blessed Mother's intercession. Immediately the Holy Cross community began a Novena of Masses for his recovery.
During that week, Pat's health began to improve dramatically. Soon he returned to the seminary, and although he was one year behind in his studies, he was given a dispensation from Rome so he could be ordained with his brother Tom and other classmates on June 15, 1941.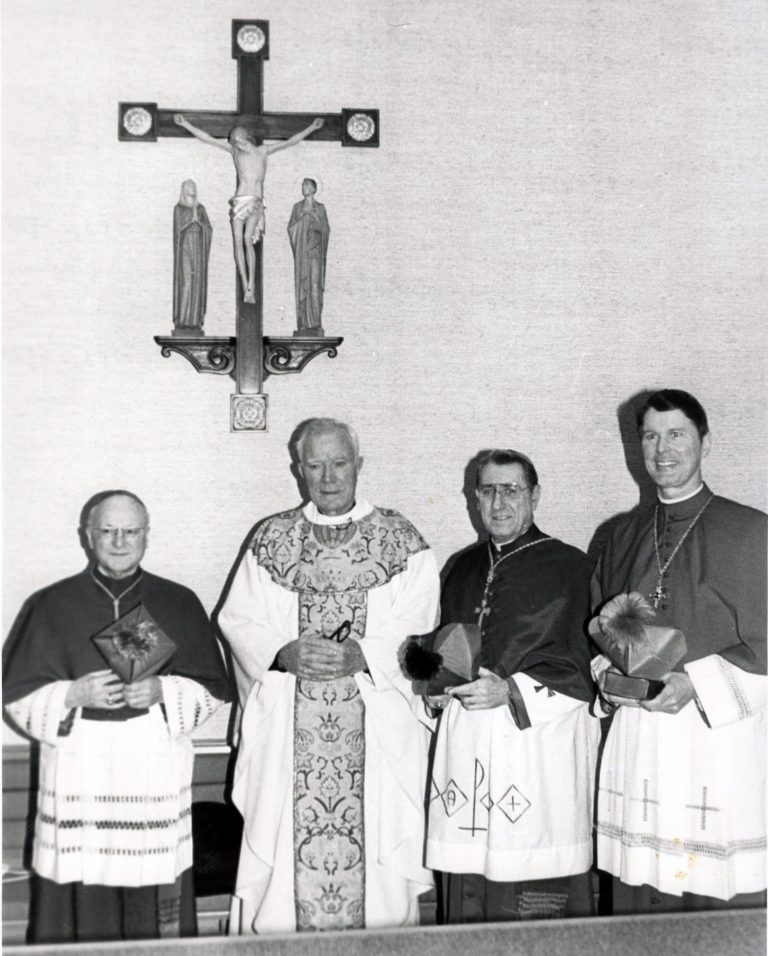 In gratitude for his remarkable recovery, Father Pat dedicated the rest of his life to honor Our Lady "by restoring the Family Rosary to America."
Father Peyton's first assignment was as a chaplain in Albany, N.Y., where he launched a project to promote praying the Rosary and family life.
He founded Holy Cross Family Ministries, which includes Family Rosary, Family Theater Productions, Father Peyton Family Institute, and Family Rosary International.
Since Father Peyton's death in 1992, the pious legacy of Scranton's "saintly son" has been immortalized by his adopted hometown.
In August 2001, the Ancient Order of Hibernians and the Saint Patrick's Parade Day Association honored Father Peyton's memory by donating to the Cathedral of Saint Peter a brass plaque depicting "The Rosary Priest" and his ministerial milestones.
A special Mass at Saint Peter's celebrated the dedication of the plaque, which is on permanent display in the Holy Family Shrine off the Cathedral vestibule. The homilist for the liturgy was Father Peyton's nephew, the late Monsignor John P. Gallagher, former historian for the Diocese of Scranton who followed in his famous uncle's priestly footsteps.
Monsignor Gallagher's mother was the former Beatrice Peyton, who first journeyed from Ireland to Scranton with another sister before the arrival of their two future priest-brothers, Thomas and Patrick.
Not far from the front doors of Saint Peter's, a large bronze statue of Father Peyton kneeling in prayer along with an inscription of his enduring "family prayer" motto, sits fittingly among the Rosary walk kiosks in the Cathedral Prayer Garden, constructed in 2003 to celebrate the 150thanniversary of Saint Peter Cathedral Parish.
After the pope's decree recognizing Father Peyton's heroic virtues, in general, a miracle is needed for his beatification and a second one for his canonization.