VATICAN CITY (CNS) – Gossip is the enemy of a parish's sense of community and acceptance, Pope Francis said.
The pope warned of the dangers of gossip during a meeting at the Vatican March 25 with a parish from Rho, near Milan in northern Italy.
Gossip "kills," the pope said, before recommending a "good medicine" to stop it.
"If you feel that you want to gossip, bite your tongue," said the pope.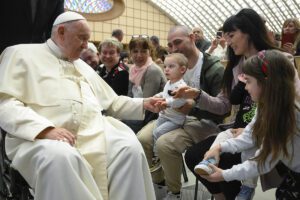 Gossip, he said, "is a plague that ruins parishes, families and so many other things."
The pope described parishes as "blessed places" where the church's diversity is represented by bringing together different "generations, backgrounds, ways of serving and different and complementary gifts."
"This is the church," he said. "When the church is not like that it falls into worldliness, it falls into clericalism which is an ugly thing."
The parish, Pope Francis said, "is the place where, following Jesus, we meet, we get to know one another, enrich one another as people from different generations and cultural and social backgrounds, each with something unique to give and receive."
Parishes must remain places of welcome for whoever enters, he said. "If you are a priest, it's for this reason; if you are on the parish council, it is for this reason: to open doors, to open windows, to always receive (others) with a smile and never say 'not now.' Total openness."
Pope Francis also underscored the value of involving children in parish activities and regularly celebrating children's Masses.
Parish life offers young people an opportunity to engage with their community's elderly people, he added, urging young people to "talk, debate and listen to the elderly, because they will give you strength so you may go forth taking a piece from their (life) story."