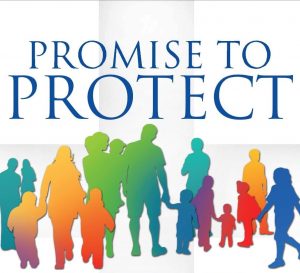 For several years the Diocese of Scranton has joined in the efforts to prevent child abuse by participating in special activities during the month of April. All parishes, schools and diocesan organizations are encouraged to implement an event/activity to support prevention. You are welcome to design a unique project to meet your needs. Parish re- sources for the healing and protection of children from abuse can be found on the USCCB website. The following suggestions are offered for your consideration:
 Celebrate a Mass for the intentions of victims/ survivors and the protection of youth. (See Sample Intercessions)
  Offer a rosary for the intentions of victims/survivors and the protection of youth.
  Dedicate the last Sunday of April to prayers for the prevention of abuse. This campaign has been called Blue Sunday. To register and obtain resources see www.bluesunday.org
  Include one or more of the bulletin inserts during the month of April.
  Add a prayer for healing during Mass or feature the prayer in the bulletin.
  Host a speaker to address a topic concerning child safety.
  Create or purchase blue ribbon pins to be distributed to parishioners at all Masses on a designated week- end. (Since1989thesymbolofablueribbonhasbeen utilized to create national awareness of the issue of child abuse. It was initiated by a Virginia grandmother named Bonnie Finney whose 3 year old grandson died after severe abuse by his mother's boyfriend.)
  Create a blue ribbon tree and display prominently with a sign indicating its significance.
  Participate in a fundraising campaign for an organiza- tion focusing on prevention. Collect a small donation from participants in your workplace who will wear blue ribbons and blue clothing on a designated day.
  Support healthy family relationships by hosting a movie, game night or other family-friendly event. Pro- vide literature promoting positive family connections.
Each parish in the Diocese of Scranton is encouraged to pray continuously for atonement and healing for victims of sexual abuse, especially during the month of April which is "National Child Abuse Prevention Month."
DIOCESAN RESOURCES
OTHER RESOURCES
 Resources  from the United States Conference of Catholic Bishops
  Other group discussion resources include: