JULY
Immaculate Heart of Mary in Dushore
July 3, from noon to 5 p.m.
Annual picnic will be tent-covered on the grounds above Saint Basil Church; festival includes chicken dinner with homemade side dishes and pies. Light fare, ethnic foods and refreshments also available.
Attractions include games, cash & whiskey raffle drawings, and bountiful theme baskets. Shuttle service provided to and from the church parking lot.
Nativity of Our Lord
Duryea
Two-day event: Friday-Saturday, July 8-9 – 5:30-10:00 pm on the grounds of Holy Rosary Church, 127 Stephenson St., Duryea.
Indoor Flea Market – Kids' Games – Various Other Games of Chance – Something for Everyone! Plenty of tent seating. Live entertainment!
Featuring all your favorite homemade ethnic and picnic foods including some of the best homemade Potato Pancakes around and hand-dipped ice cream and a Bake Sale!! Street parking with shuttle service. Check us out at FaceBook Nativity of Our Lord Parish or online at www.nativityduryea.org.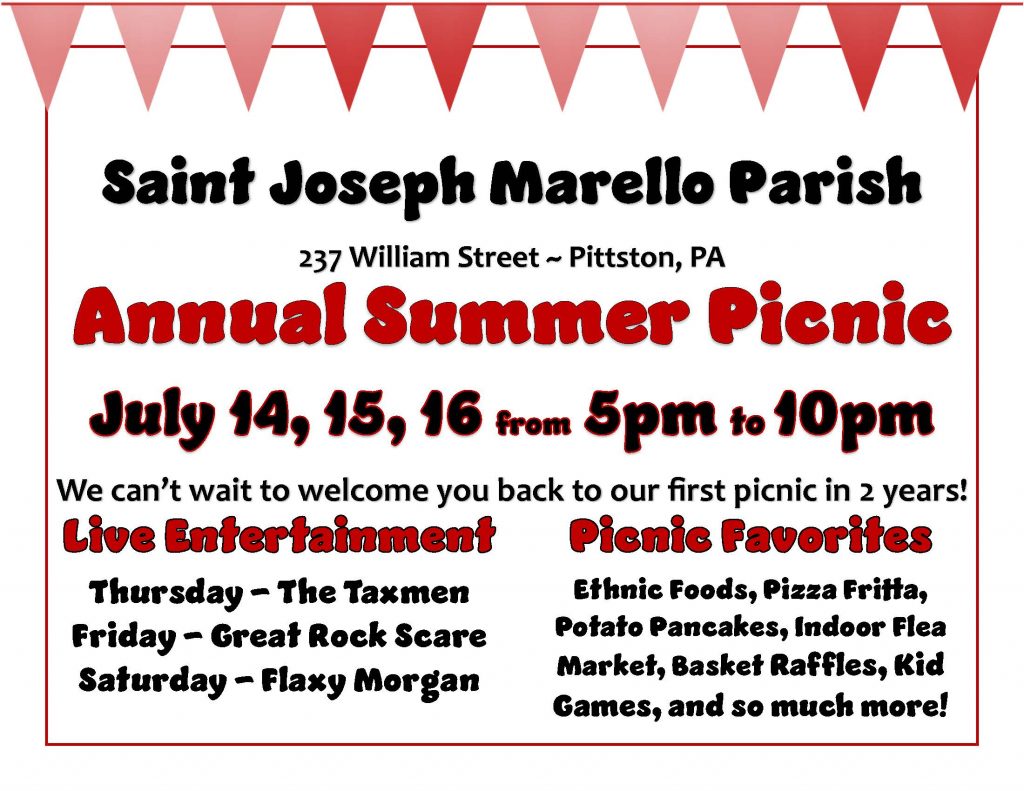 Our Lady of Mount Carmel in Carbondale
July 14-16
The parish festival celebrating the annual Feast of Our Lady of Mount Carmel will be held Thursday, Friday & Saturday from 5 to 10 p.m. each day on the church grounds, located at 33 Fairview Street.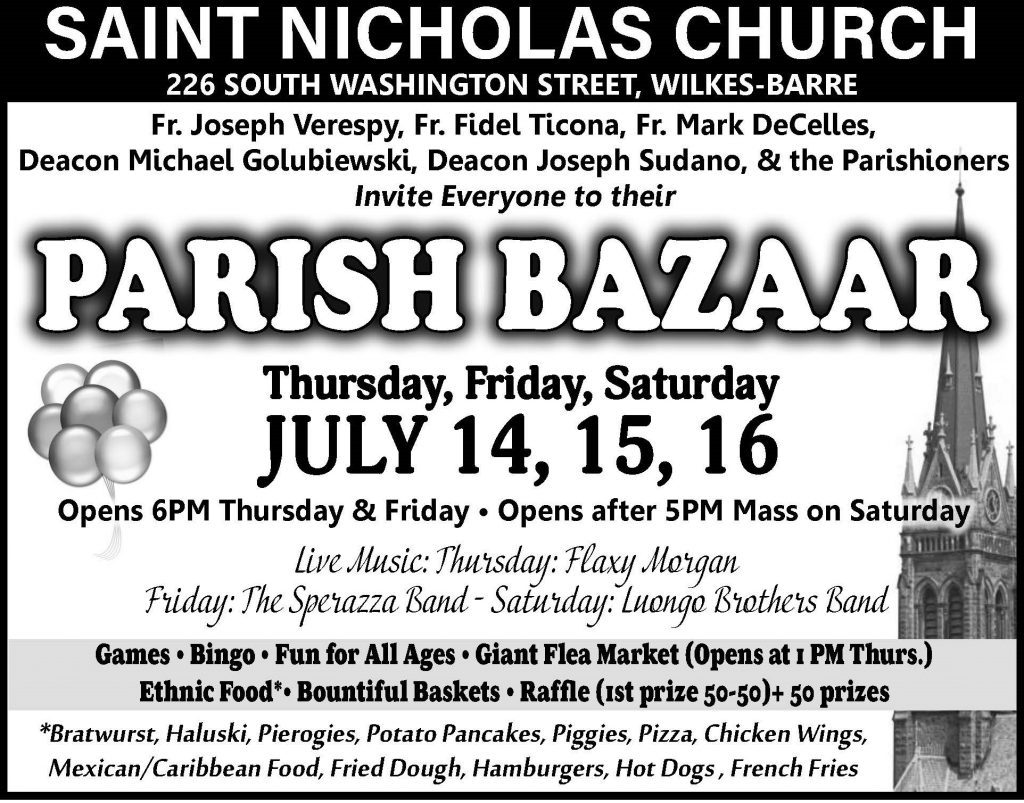 St. Nicholas Parish Bazaar, 226 S. Washington Street, Wilkes-Barre, will be held on July 14, 15, 16, on the parish grounds.
This year's 50-50 Raffle Drawing will feature a Cash Grand Prize, plus 32 additional prizes. The Bazaar will feature American, Ethnic, Mexican & Caribbean foods, Giant Flea Market opens Thursday 1:00 PM – 10:00 PM, Friday & Saturday 3:00 PM – 10:00 PM, Bountiful Baskets, games, a variety of booths, (something for all ages).
Music entertainment on Thursday by "Flaxy Morgan", Friday by "The Sperazza Band" and Saturday by "Luongo Brothers Band".  Bazaar times:  Thursday & Friday 6:00 PM – 11:00 PM and Saturday opens after the 5:00 PM Mass until 11:00 PM.
For more information, please call the Parish Office (570-823-7736).
St. Joseph Marello Parish Summer Picnic
St. Joseph Marello Parish, 237 William Street, Pittston, is hosting its annual Summer Picnic on Thursday, Friday, and Saturday July 14, 15, and 16 on their parish grounds.  The picnic runs each night from 5pm to 10pm.
Our picnic will include ethnic foods, including porketta, pizza fritta, penne with vodka sauce, and so much more, as well as picnic favorites, including clams, pierogis, and potato pancakes.  Our grounds will host a wide variety of kids games, instant bingo, and a large basket raffle.
Each exciting night will also feature live music and entertainment, with The Taxmen playing on Thursday, Great Rock Scare joining us on Friday, and Flaxy Morgan closing out the picnic on Saturday.  Inside our parish hall, we will host a large indoor flea market, which will be open during picnic hours.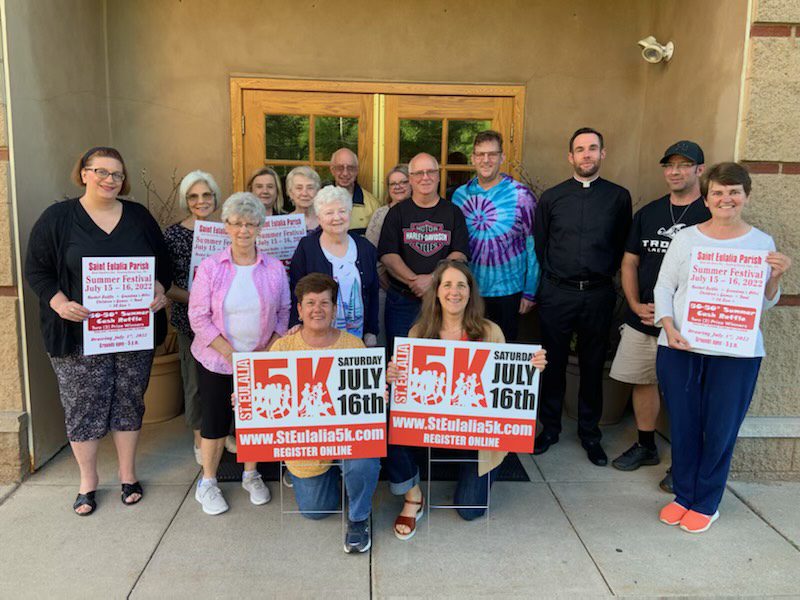 St. Eulalia's Parish, with the assistance of many parish volunteers, will celebrate its annual Summer Festival on Friday, July 15, and Saturday, July 16, from 5-10 p.m., on the picnic grounds of its parish campus, located at 214 Blue Shutters Road in Roaring Brook Township.
The summer festival weekend, which also features a 5K Walk/Run on Saturday morning, is the parish's largest fundraising initiative of the year.
The "festival favorites" include an array of homemade ethnic foods, such as pizza fritta, potato pancakes, haluski, pierogi, porchetta, and sausage and peppers, as well as traditional picnic fare like wimpies, burgers, hot dogs, and chicken fingers, as well as a beer pavilion. Additionally, the festival's signature features include the parish flea market, known as Grandma's Attic; Tricky Tray basket raffles; bake sale; and an arts & crafts boutique. The event also features kids' games, face painting, pony rides; a 50/50 Summer Cash Raffle and small games of chance, including  a gaming wheel.
During the festival weekend, St. Eulalia's is hosting its 12th Annual 5K Walk/Run event through the Roaring Brook/Elmhurst area, rain or shine, at 9 a.m. on Saturday, July 16. Those who would like to participate need to pre-register, as there is no same-day registration. For more information or to register, go to www.steulalia5k.com or facebook.com/StEulalia5K.
For more information about St. Eulalia's Summer Festival and 5K Walk/Run, go to the parish website, sainteulalias.com, or the parish Facebook page, facebook.com/sainteulaliaparish.

OLMC Summer Festival 2022
2 Day Event – Friday 7/15/22 open 5-11pm Flaxy Morgan and Saturday 7/16/22 open 5-11 pm Lance Thomas Band
Rain or Shine – Everything under cover! Huge Indoor Flea Market, Games, Baskets and Lots of Delicious Homemade Food!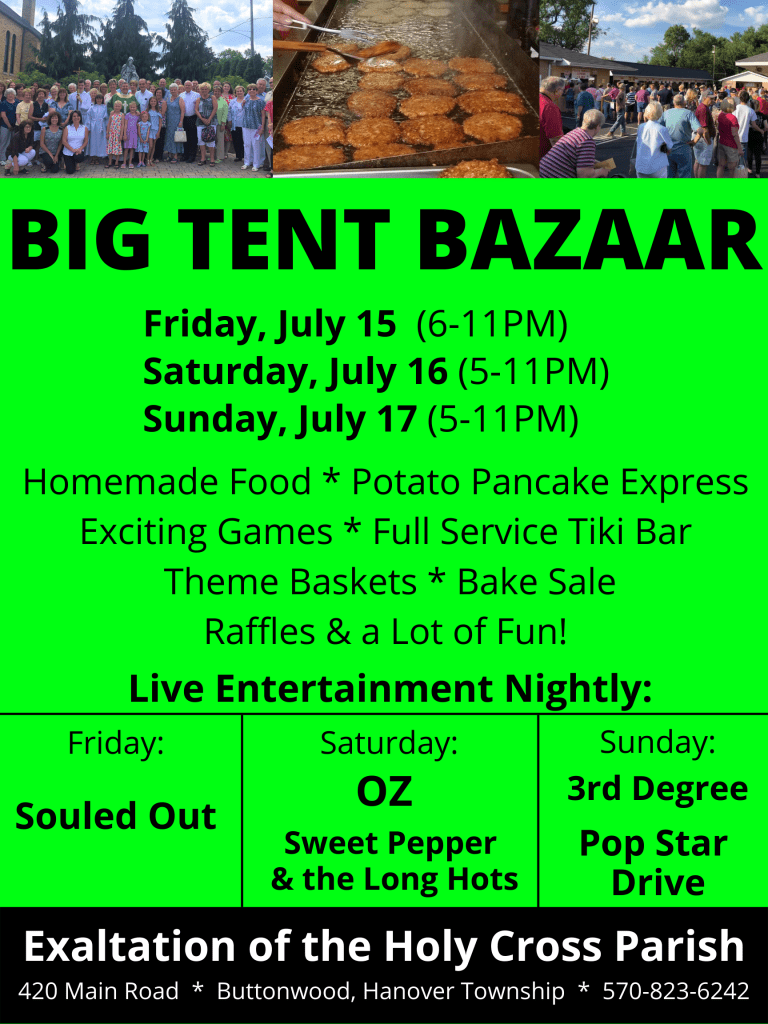 Big Tent Bazaar July 15-16-17!
Bazaar hours: Friday, July 15 – 6-11PM
Saturday, July 16 – 4PM Mass / 5-11PM
Sunday, July 17 – 5-11PM
Each night, we will have Live Entertainment,
with 2 bands on Saturday & Sunday
Friday: Souled Out
Saturday: OZ & Sweet Pepper and the Long Hots
Sunday: 3rd Degree & Pop Star Drive (formerly AM Radio)
Cash Raffle with top prize of $5,000! If you need raffle tickets for family, friends, neighbors, etc., contact the parish office or visit www.exhc.org.
For more information, call 570-823-6242.
Saint Ann's Solemn Novena
07/17/2022
First day of the Solemn Novena to Saint Ann. The Novena runs through to Tuesday, July 26.
Daily Masses and Novena services at 8:00am, 11:45am, 5:30pm and 7:30pm. Novena service only at 3:30pm.
Weather permitting, the 8am, 5:30pm and 7:30pm Masses and Novena services are held at the outdoor sanctuary outside the Basilica's main entrance.
Summer Picnic held July 29, 30 & 31 on the grounds of St. Mary of Czestochowa Church 417 Main St. Eynon.
There will be Ethnic & American food, raffles, children's games, beer & wine tent, and a House of Treasures. Entertainment nightly.
Hours: Friday & Saturday 5-10pm, Sunday 1-7pm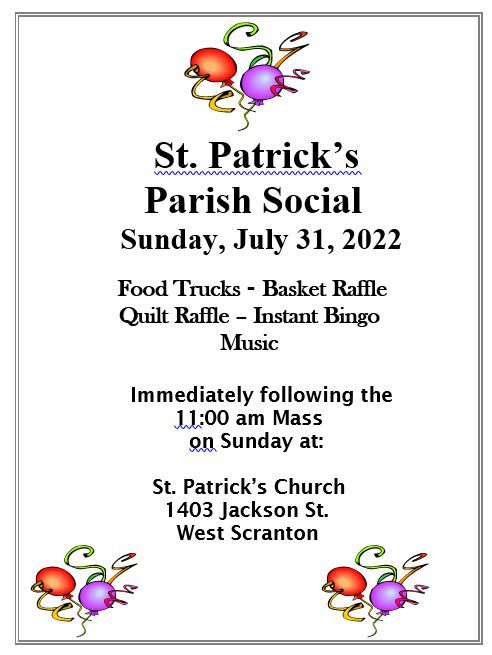 Saint Patrick's Parish, West Scranton
07/31/2022
A parish social.
For more information: (570) 344-2679
AUGUST
St. Robert Bellarmine Parish
Wilkes Barre
08/04/2022
Better known as St. Al's Bazaar
Homemade food, games for all ages, BINGO, a Bake Sale and entertainment nightly.
Thursday, August 4th Triple Fret
Friday, August 5th Guilty Pleasure
Saturday, August 6th The Sperazza Band
Sacred Heart of Jesus Church
Dupont
SACRED HEART 75th ANNUAL POLISH PICNIC IN DUPONT
To be held on the church grounds at 215 Lackawanna Ave., Dupont. It will be held August 5 & 6 from 5 p.m. to 10 p.m. The food offerings include pierogi, golombki (pigs in the blanket), halushki, kielbasi, and placki (potato pancakes) all prepared by the men and women of the parish. This picnic offers delicious ethnic foods, theme baskets, games of chance, a beer tent and great polka music nightly.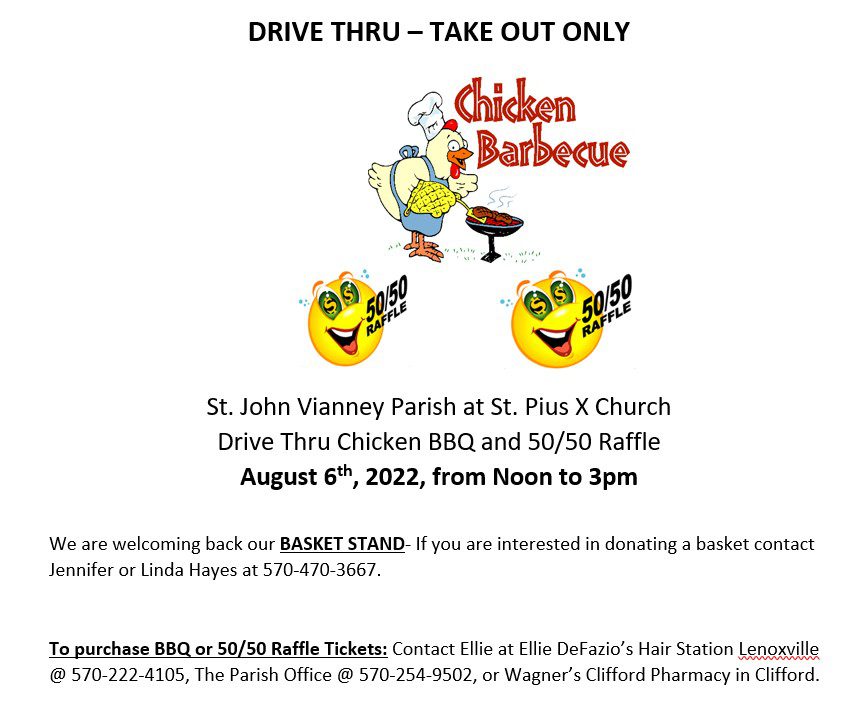 Holy Cross Parish
Olyphant
08/07/2002
Chicken BAR-B-Q, from 11:30 until 4:00 pm on the parish grounds. Take-out & sit down available. Adult Dinner includes: 1/2 chicken, pototoe, vegtable, $12.00; children meals includes chicken nuggets, fries $5.00. Tickets are on sale before or after mases or at the Rectory Office. Basket raffle-Bake Sale-Chicken Nuggets, hot dog-french fries, ice cream-soda-water-ice cream soda. Entertainment music by John Quinn.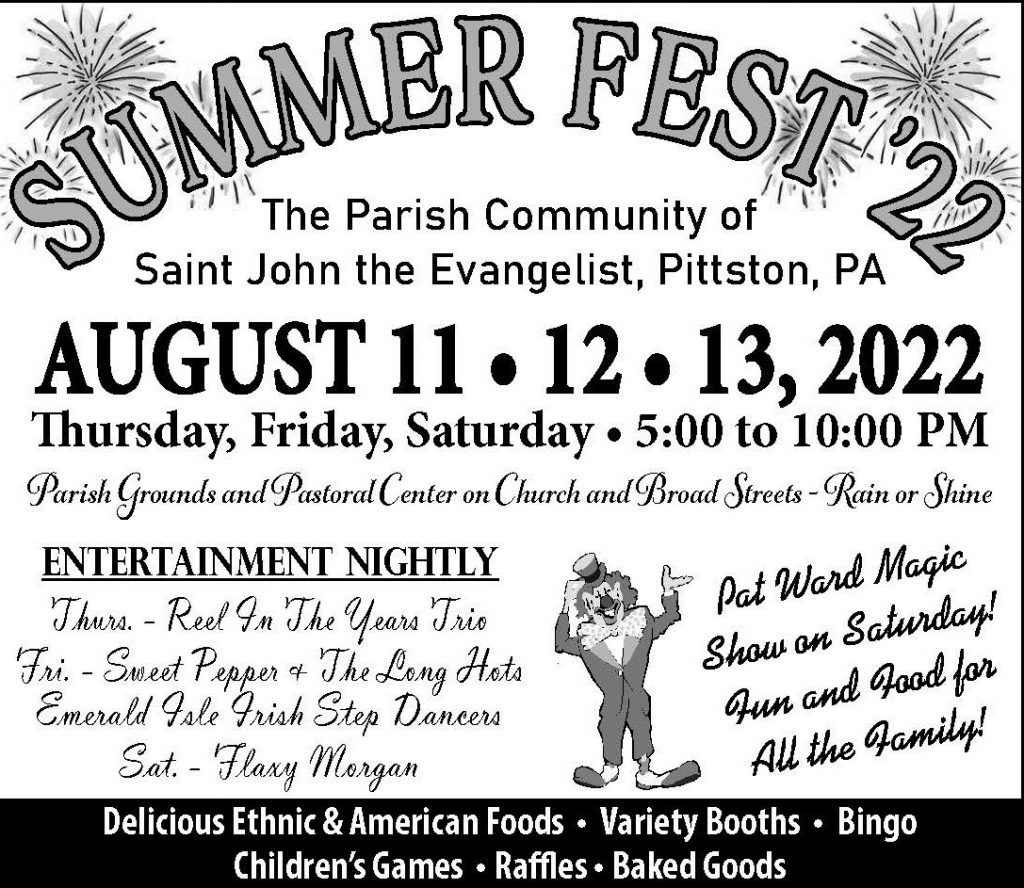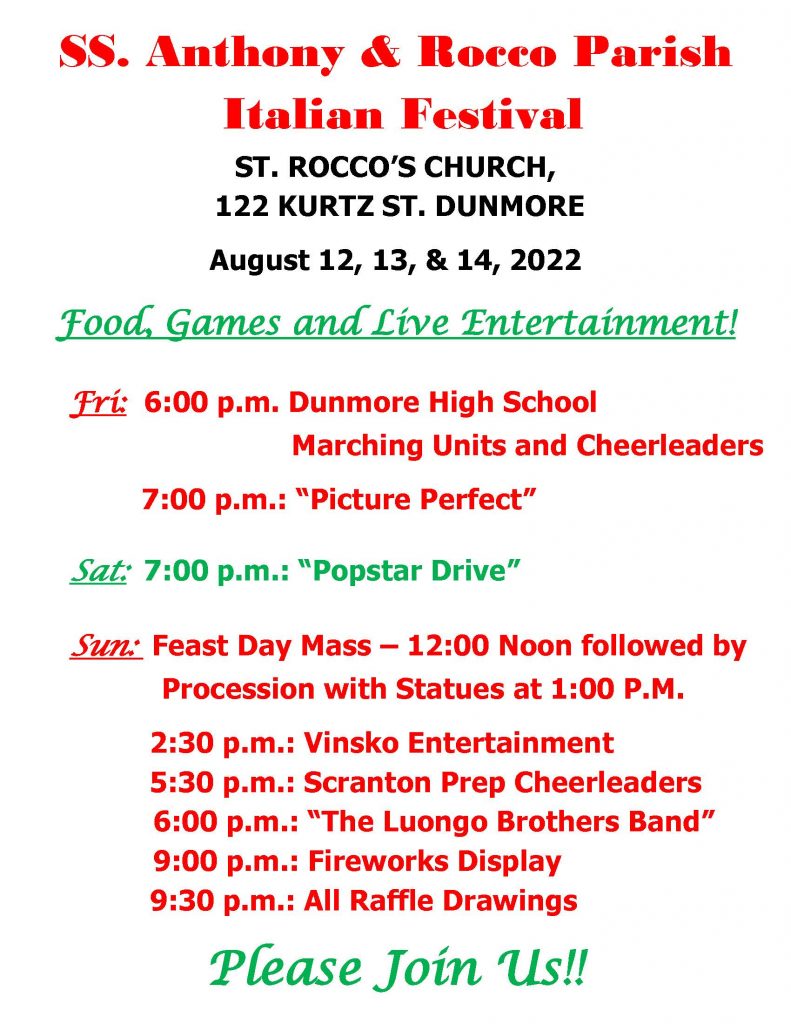 SS. Anthony & Rocco Parish Italian Festival will be held August 12, 13 and 14, 2022 at St. Rocco's Church Grounds, 122 Kurtz St., Dunmore, featuring food, games and live entertainment.
The Festival opens Friday and Saturday at 5:00 PM and on Sunday Following the Noon Mass and Procession.
Live Entertainment: Friday: DHS Marching Units & Cheerleaders and Picture Perfect; Saturday: Popstar Drive; Sunday: Feast Day Mass & Procession at 12 Noon followed by Vinsko Entertainment, Scranton Prep Cheerleaders, The Luongo Brothers Band, and FIREWORKS AT 9 PM.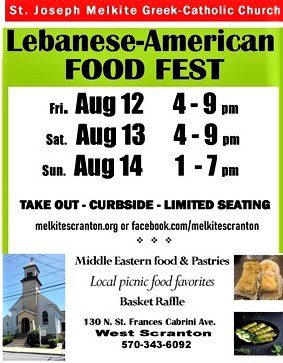 21st annual Lebanese-American Food Fest
Dates: August 12, 13, 14, 
Fri. Aug 12 4 – 9pm
Sat. Aug 13 4 – 9 pm
Sun. Aug 14 1 – 7pm
St. Joseph Melkite Greek-Catholic Church
130 N. St. Frances Cabrini Ave (off lower Jackson St) West Scranton
Take Out, Curbside or limited seating
Great Lebanese Food and pastries, Local picnic food favorites, variety baskets.
Holy Day services daily.
Visit – www.melkite.scranton.org or facebook.com/melkitescranton and check back in August for menu
St. Jude Parish
Mountain Top
08/12/2022
68th Annual Picnic in the Grove
August 12, 13 & 14, 2022
Friday & Saturday 4-10 PM
Sunday 12 Noon – 8 PM
For: more information
(570) 474-6315
Fun for all ages! Friday, August 12 and Saturday, August 13th 5pm-10pm and Sunday 12pm-6pm
FREE daily entertainment, delicious homemade international food and desserts, beer and wine garden, Prize Bingo for adults Friday and Saturday night, Kid's Toy Bingo on Sunday, Raffles, kid's games, MEGA 50/50 and much more!
Bring some old friends with you or come make new friends!    All are welcome!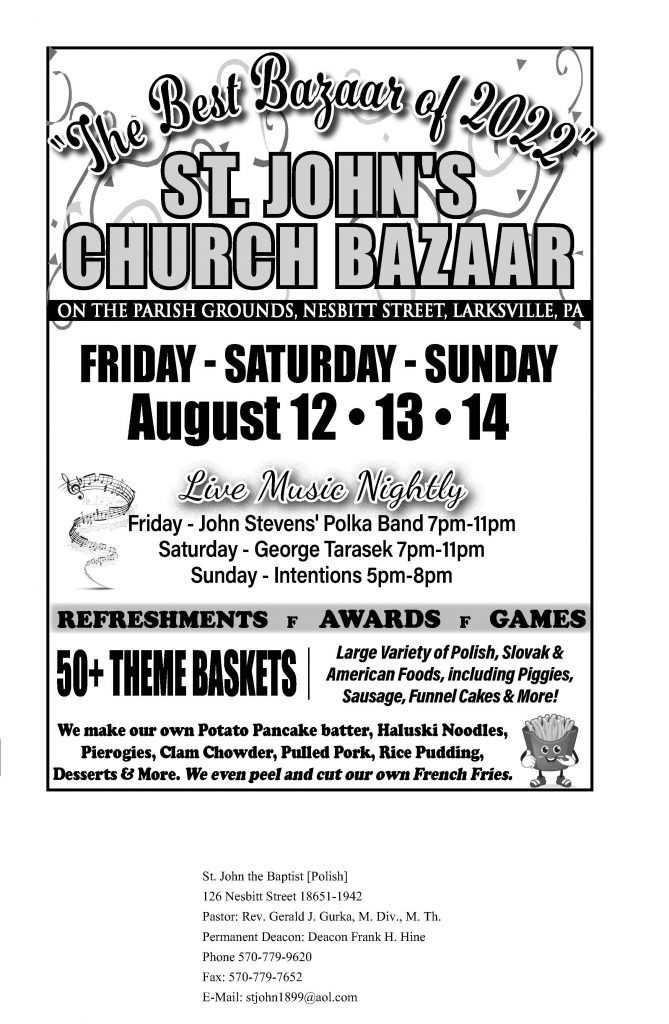 St. John the Baptist
Larksville
08/12/2022
Bazaar:
August 12th: 6PM to 11PM
August 13th: 5PM to 11PM
August 14th: 3PM to 8PM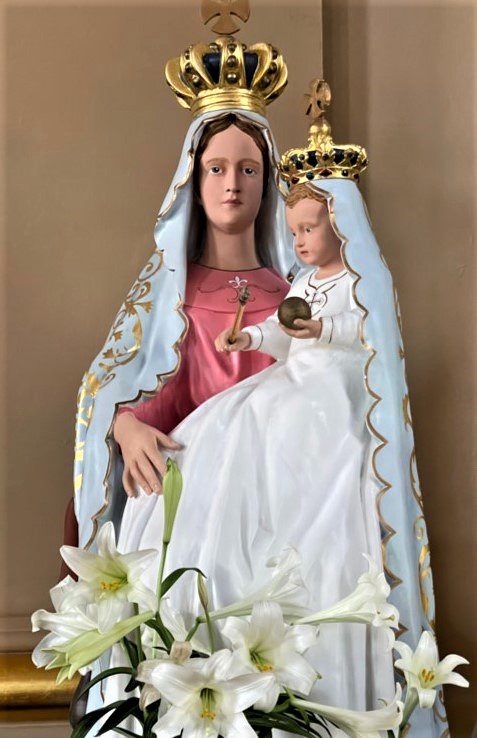 Most Precious Blood Church
Hazleton
123rd La Madonna del Monte Festival
Aug. 12, 13 and 14, 2022
All are invited to celebrate our beautiful, annual recognition of the Blessed Mother through spiritual observances including a weeklong novena, Mass and candle house procession followed by Benediction of the Blessed Sacrament in Our Lady of Lourdes Grotto.
Bake sale, tricky trays and a calendar lottery will be held just as in times past as well as tent sponsor opportunities, commemoratives placed in the bulletin, grotto candle sale and our traditional pasta dinner for takeout. Come join us for our Festival Food Nights and live entertainment – Friday, August 12 from 4:00 p.m. to 8:00 p.m. and Saturday August 13 from 4:30 p.m. to 8:00 p.m.
Enjoy delicious ethnic food and soft drinks, while previewing our famous tricky trays (drawing Saturday at 8:00 p.m.) Along with our abundant food there will be homemade baked goods for sale. August 14, we will have our full course pasta and meatball dinner, 11:00 a.m. to 2:00 p.m. Preordered and take out only.
See you there!
Saint Maria Goretti
Laflin
08/13/2022
Cash Bingo 20 games of bingo with a prize of $100 each. Also 4 specials – 1st special – $200; 2nd special $300; 4th special $400; and 5th special $500.
Cost of ticket for admission is $30 pre-sale and $35 at the door. Space is limited.
Saint Juliana's Rock Lake Picnic
Aug. 20
Sponsored by Saint Katherine Drexel Parish, the time-honored summer festival will be held from 11 a.m. to 7 p.m. on the grounds of Saint Juliana Church, 2048 Creamton Drive (Route 247), Rock Lake.
The church picnic includes a chicken barbecue dinner, with tickets sold in advance and dinner pick-up from noon to 3 p.m. Event also features pierogi, pie and bake sales, a finder's market, games and prizes. For more information, call
(570) 798-2539.
SEPTEMBER
Immaculate Conception
Bastress Township/ Williamsport
09/05/2022
Turkey and Ham dinner with all the trimmings. Served family style. Sit down and take out available. $11.00 advance $12.00 at the door for adults, $6.00 for children.
If the event has a specific contact person who doesn't mind their phone number or email being published, please submit that information below.
(570) 745-3301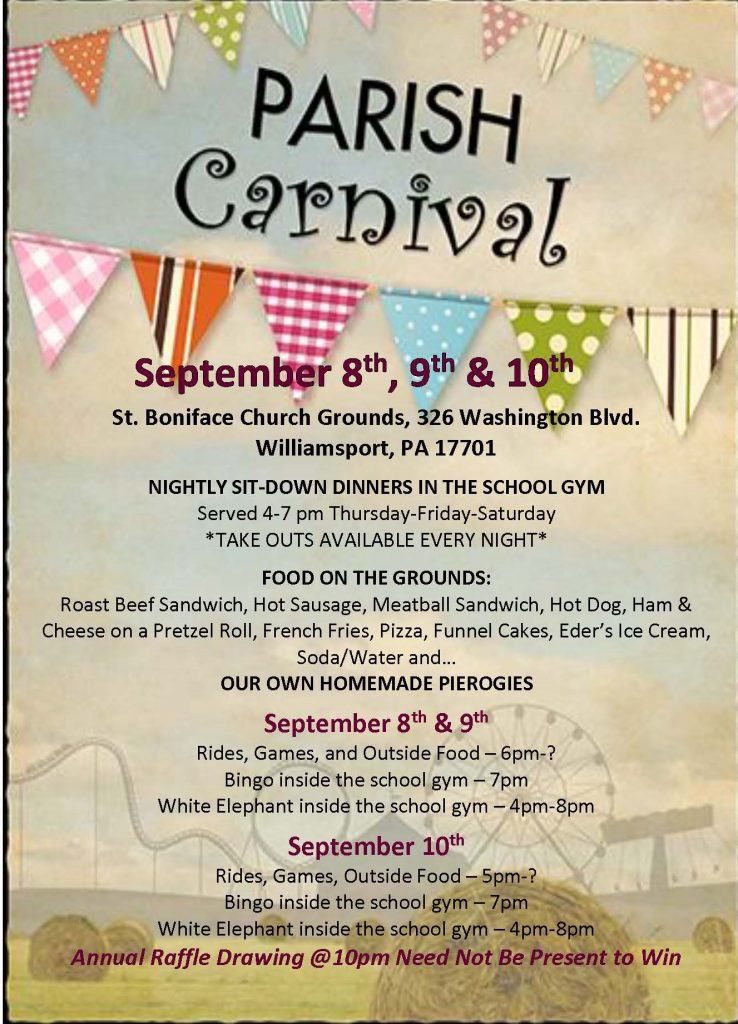 St. Boniface Parish Annual Carnival
September 8th, 9th, & 10th St. Boniface Church Grounds, 326 Washington Blvd. Williamsport
NIGHTLY SIT-DOWN DINNERS IN THE SCHOOL GYM — Served 4-7 pm Thursday-Friday-Saturday
*TAKE OUTS AVAILABLE EVERY NIGHT*
FOOD ON THE GROUNDS:
Roast Beef Sandwich, Hot Sausage, Meatball Sandwich, Hot Dog, Ham & Cheese on a Pretzel Roll, French Fries, Pizza, Funnel Cakes, Eder's Ice Cream, Soda/Water and…OUR OWN HOMEMADE PIEROGIES
September 8th & 9th
Rides, Games, and Outside Food – 6pm-?
Bingo inside the school gym – 7pm
White Elephant inside the school gym – 4pm-8pm
September 10th
Rides, Games, Outside Food – 5pm-?
Bingo inside the school gym – 7pm
White Elephant inside the school gym – 4pm-8pm
Annual Raffle Drawing @10pm Need Not Be Present to Win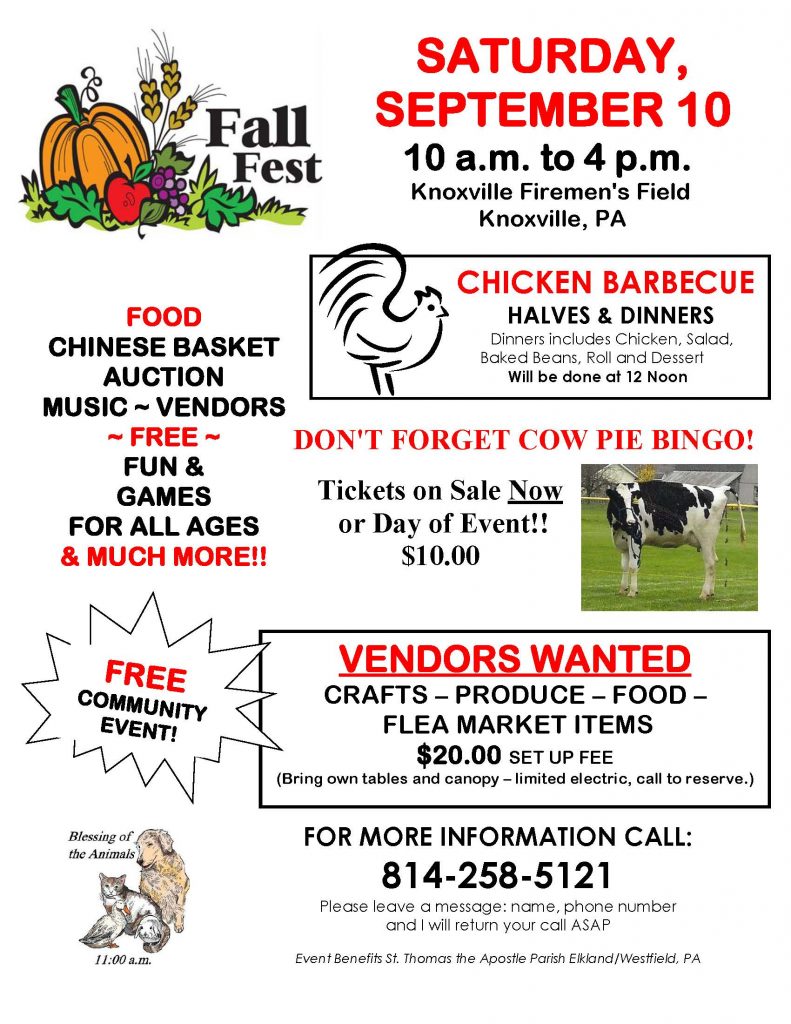 Our Lady of Lourdes Montoursville
Montoursville
09/16/2022
The Montoursville Annual Parish Fall Fun Festival! Food, Games, Rides, Entertainment, More Food, and lots of wonderful camaraderie with fellow parishioners, neighbors, and friends old and new! Everyone is welcome–we offer something to please folks young and old!