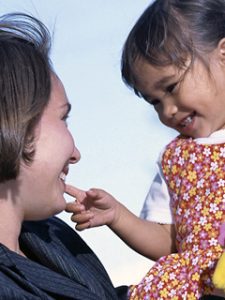 A key part in keeping children safe in our communities is empowering them with the knowledge about safe environments and boundaries. Through this program, the students in our Catholic schools and parish Religious Education programs will be taught these very skills in their Religious Education classes.
These themes are taught at age appropriate levels based on the following breakdown: K-2, Grades 3-5, Grades 6-8 and Grades 9-12.
The lessons described below help every young person, through prayer and Catholic teaching, recognize that they are special in God's eyes and the eyes of their church community.
We will rotate in a three year cycle, age appropriate, scripture based safe environment lessons for both Religious Education and Catholic school students.
Lesson One- The Eighth Commandment- Safety and Honesty
God's rule for children in the eighth commandment is to be truthful. Children are taught; NO, GO, TELL which emphasizes honest communication with parents and other trusted adults.
Lesson Two- The Sixth Commandment-Respect and Boundaries
God's rule for children in the sixth commandment is to respect their bodies which are unfinished Temples of the Holy Spirit. Children are taught how to protect themselves.
Lesson Three- Unconditional Love-Communication
St. Paul teaches us that the only true love is unselfish love. Children are taught to distinguish true and honest love from false love. False love comes with conditions. Children will learn how to recognize how the conditions placed on love can be harmful to them.
If you suspect child abuse call: Childline 24/7 at 1-800-932-0313
If someone is a victim of abuse, call Mary Beth Pacuska, Victim Assistance Coordinator at (570) 862-7551 or e-mail Mary-Beth-Pacuska@dioceseofscranton.org
"Much will be required of the person entrusted with much, and still more will be demanded of the person entrusted with more."
Luke 12:48